How to decorate your Christmas table
After the present opening, the second most awaited moment in Christmas is the succulent feast served on a well-decorated table. Gathered around the Christmas table, relatives and friends do not only content themselves with food, they also have long fascinating conversations and can play fun games. The dinner table is therefore at the core of Christmas celebrations. So, make sure to dress it with stunning and unique decorations.
Before adorning your table:
Take some time to count how many guests will be joining you, so you can choose the type of table(s) you wish to eat on. Favour round tables if you are welcoming less than 10 people, otherwise a rectangular table will surely do. Do not hesitate to add 1 extra table if you think your guests might feel a bit squeezed.
Making a seating plan is essential. Take into account the age ranges of the people coming for dinner. Try to place people with similar ages next to each other as they might share the same interests. Concerning children, they might find the festivities more entertaining if they sit together far from adults and their serious discussions. Whilst allocating a seat to each guest, ensure you are sat next to the kitchen to facilitate the constant and frenetic return-trip of the delicious dishes.
Do not decorate your table before deciding the colours that will dominate your design. Try not to use more than 3 shades so your table catches attention in a pleasant way. Also, you can choose up to 2 vivid colours. If you select more, your table will look quite kitsch.
To help you choose the right colours, think about a particular theme. Christmas offers plenty of possibilities. You can go full traditional, or have a preference for a polar scenery or the Scandinavian culture. You might want your décor to be sophisticated, romantic or rustic.
Steps to follow when decorating your table:
1. Cover your table by using a table cloth, a runner, and/or mats.
2. Place your centre piece. You can create your own by mixing ornaments such as candles, flowers and baubles. Just make sure your centre ornament is impressively imposing but not too big to prevent guests from seeing each other.
3. Put large decorations, such as candelabras, bowls, figurines, and jars first! You will then know if you have enough space for other decorations. If not, you will be able to rapidly change your initial plan without having to start over.
4. Do not forget your plates and cutlery. And add napkins which match the cover of your table.
5. Add finishing touches with tree decorations, like baubles put in glasses, vases or bowls, garlands running in the middle of the table, pine cones in plates, but also confetti, seating cards, and crackers.
6. Finish your décor by decorating the back of your chairs with a bow made of elegant ribbon.
Décor by theme:
Traditional Glee
Besides dressing your table in red and green, make Santa the main protagonist of your story. Sprinkle your table with Christmas symbols, such as jingle bells. Use traditional items in an original way. For example, why not try to put forks and knives in stockings, or slide napkins into Christmassy hanging signs?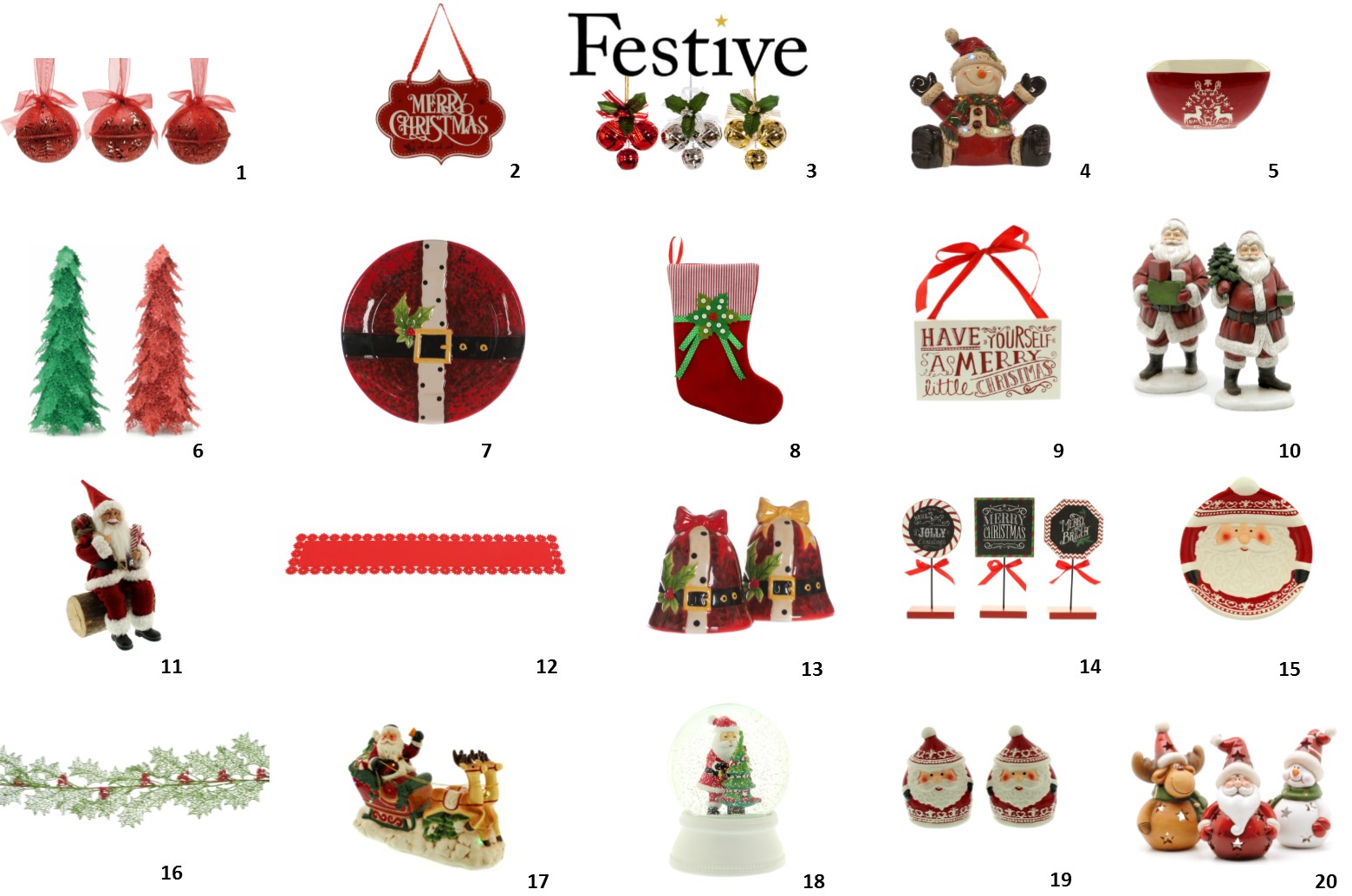 1. 8.5cm 3 asstd red jingle bell (116812)
2. 17cm wooden hanging sign with Merry Christmas (P007535)
3. 71cm Jingle Bell cluster – 3 asstd colours (P001271)
4. 21cm lit sitting snowman (P004526)
5. 18cm nordic snack bowl (P006692)
6. 23cm 2 asst red and green table top tree (248711)
7. 19cm Santa coat design plate (P001312)
8. 39cm red felt stocking with holly design (P007339)
9. 18cm white merry Christmas sign (P007744)
10. 18.5cm 2 asstd antique finish santas (170937)
11. 45cm sitting Traditional Santa (P008342)
12. 150cm red felt table runner with snowflake trim (P007362)
13. 6.5cm bell shape salt / pepper pot set (P001315)
14. 20cm 2 asstd table top signs (P008837)
15. 12cm Santa snack bowl (P006672)
16. 180cm green glitter holly garland with red berries (P000841)
17. 31cm dolomite Santa / sleigh with lights and music (P006676)
18. 16cm Santa and tree snowglobe (P007077)
19. 8cm set of 2 santa salt and pepper pots (P006669)
20. 16.5cm 3 asstd terracotta candle holders (123667)
Winter Wonderland
Favour white, clear and holographic decorations. Your table should be inhabited with cosmic and polar emblems such as stars, snowflakes, icicles, penguins and bears. Snow globes are perfect items to bring an ounce of magic to your table. You can also embellish your table by spreading artificial snow.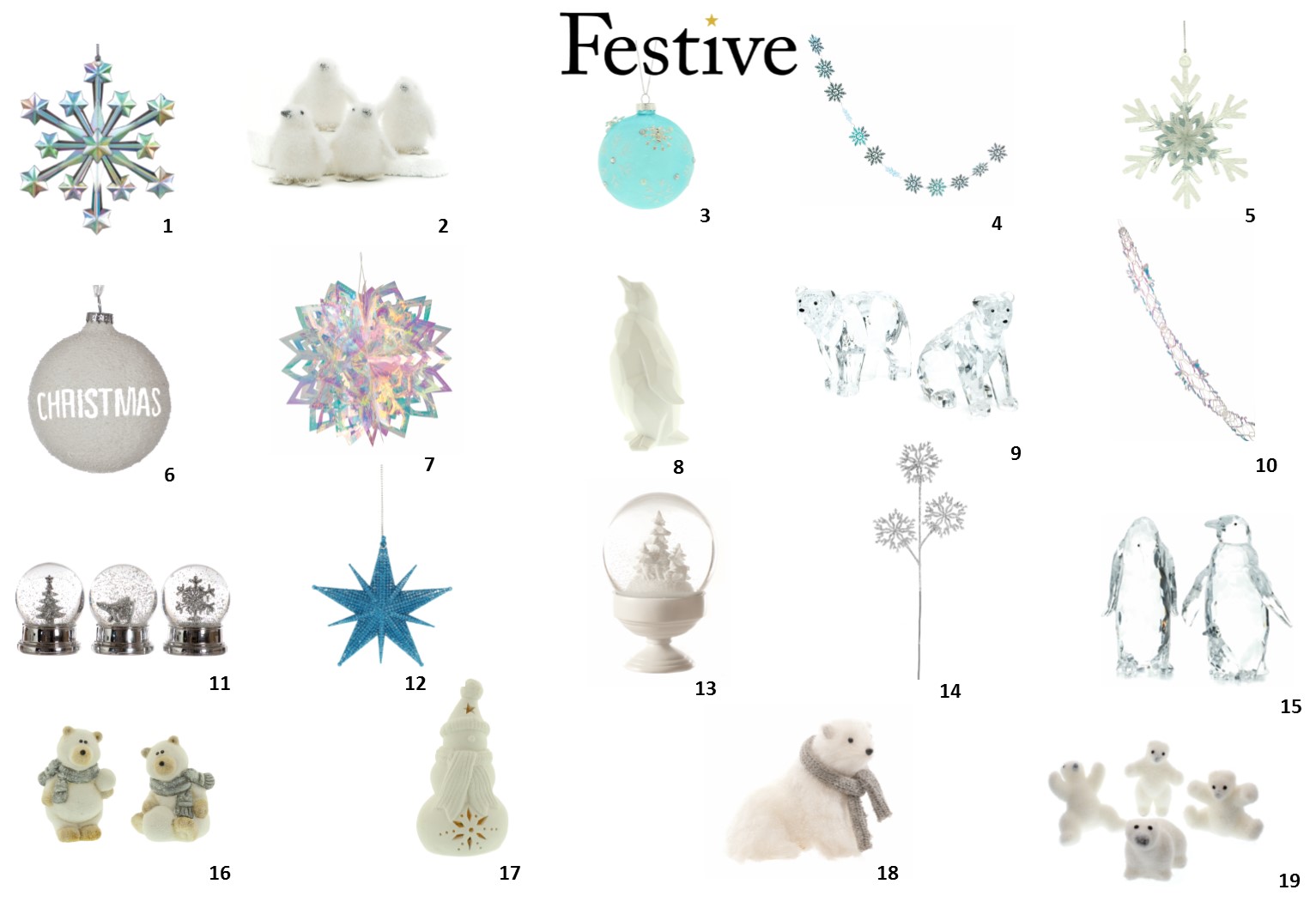 1. 13cm glitter snowflake – iridescent (P001452)
2. 10.5cm 4 asstd frosted penguin ornament (171378)
3. 8cm light blue frost snowflake glass ball (P006951)
4. 119cm snowflake garland – blue (P007623)
5. 17cm glitter snowflake – blue / white (P007324)
6. 8cm white glass with CHRISTMAS word (P002160)
7. 20cm holographic star ball (P006976)
8. 19cm geometric white penguin (P008830)
9. 12cm 2 asstd clear acrylic bears (061334)
10. 274cm holographic garland (P006978)
11. 8.5cm 3 asstd silver table top snowglobe (788996)
12. 10cm glitter starburst ornament – blue (P007240)
13. 22cm reindeer and tree waterglobe – white (P002738)
14. 40cm Trio snowflake spray – silver iridescent (P000842)
15. 2 asstd 15cm acrylic penguin (177349)
16. 12cm 2 asstd terracotta bears (P006850)
17. 16cm lit porcelain snowman (P006843)
18. 19.5cm white sitting bear (P000414)
19. 11cm / 12cm 4 asstd dancing polar bear (159260)
Glamour Glitz
For this theme, gold, copper and silver are your best friends! Dress your table with refined sparkles, elegant candelabras, majestic reindeers, wonderful jewels, and luxurious flowers. Consider illuminating your table with candle lights and placing your seating cards on glittering baubles!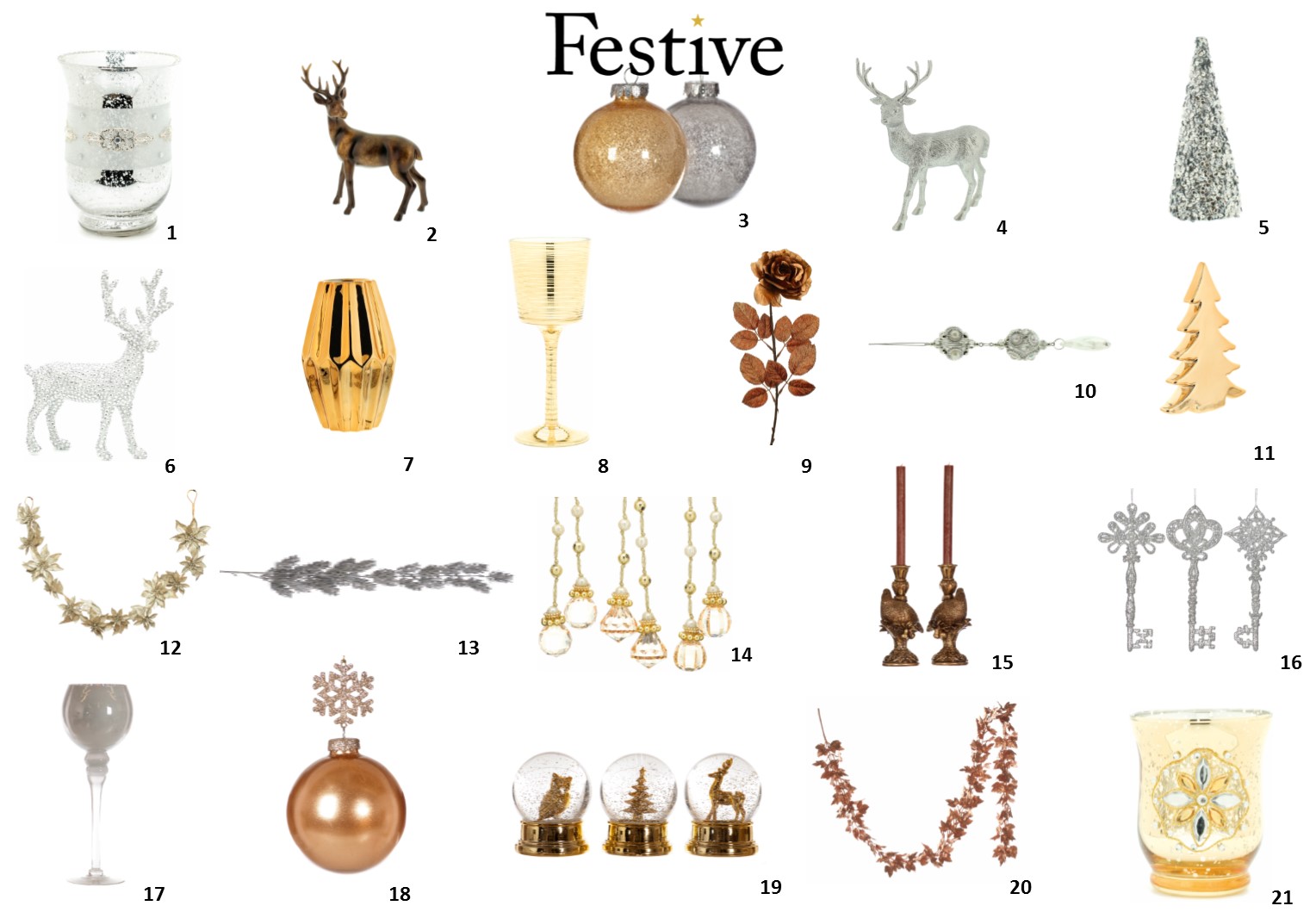 1. 14.5cm silver glass candle votive (252619)
2. 22.5cm polyresin standing reindeer – copper colour (P007037)
3. 6 x 8cm 2 asstd Glastic Ball with glitter finish (P002061)
4. 31.5cm silver glitter standing reindeer (P007441)
5. 25cm cone tree with glitter and sequin (P007604)
6. 37cm standing sparkling reindeer (254699)
7. 15cm porcelain angular vase – copper (P006738)
8. 18cm gold ribbed effect candle votive (252688)
9. 70cm copper single rose stem (P008543)
10. 17cm acrylic 2 drop droplet (P007455)
11. 15cm porcelain tree – copper (P006713)
12. 180cm champagne gold poinsettia garland (170395)
13. 70cm Glittered cone spray – silver (P000997)
14. 40cm 3 asstd beaded gold net dec (236602)
15. 24cm 2 asstd pheasant candle holder – gold (P000700)
16. 15cm 3 asstd glitter keys – silver (P001616)
17. 35cm glass goblet candle holder (786626)
18. 8cm copper ball with snowflake (P003524)
19. 8.5cm 3 asstd gold table top snowglobe (788989)
20. 180cm copper ivy garland (P008540)
21. 11cm x 9cm antique gold glass votive (252749)
Enchanting Woodland
Whilst wood is the key material to use here, brown and green are two colours which amazingly suit this theme. Make your table look rustic by placing forest animals, trees, antlers, chestnuts, leaves, and pinecones on your table.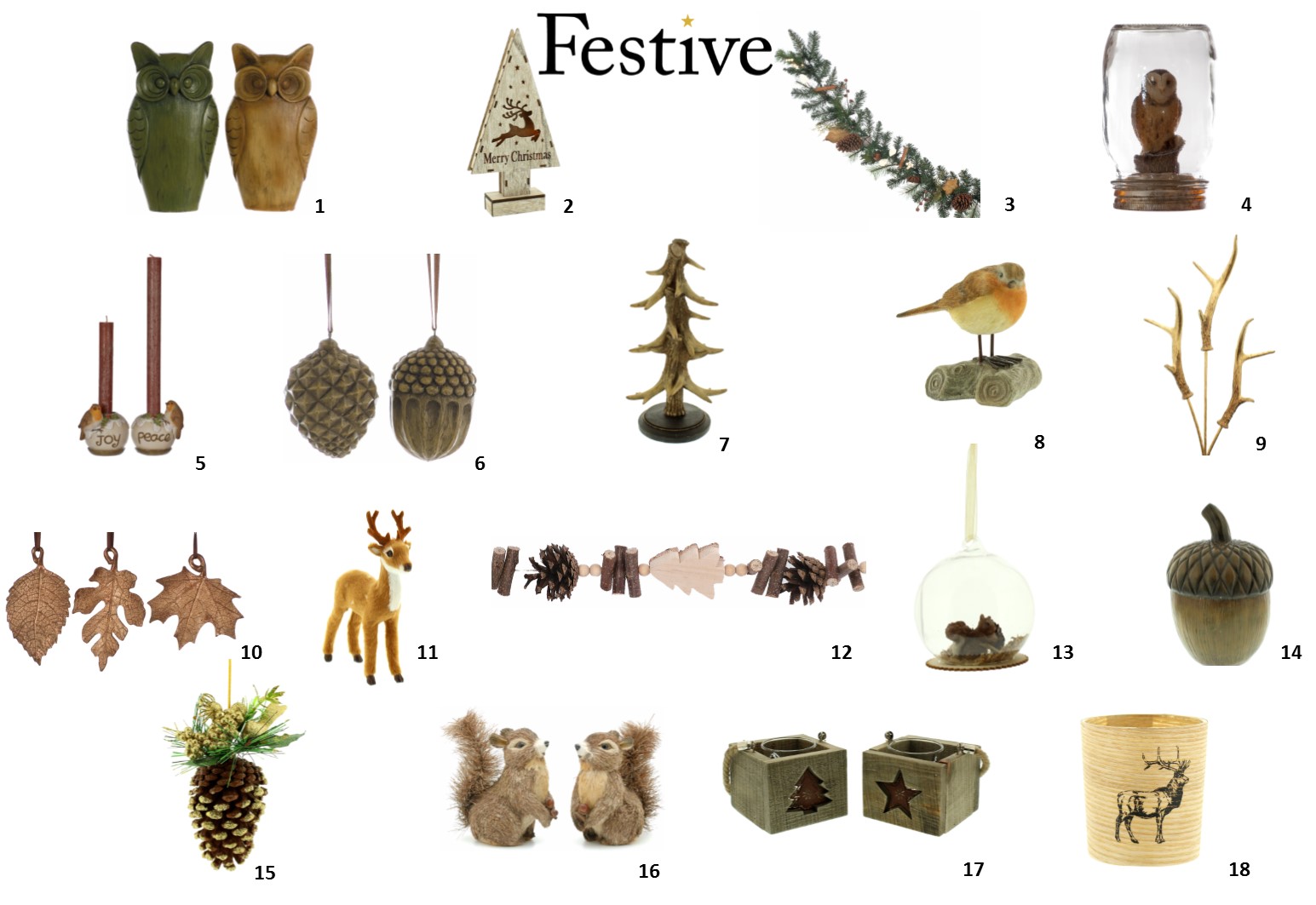 1. 16cm 2 asstd wood look owls (689026)
2. 30cm bo lit reindeer tree with timer (P006958)
3. 180cm cinnamon and cone garland (P002711)
4. 13.5cm owl in glass jar (P000672)
5. 8.5cm 2 asstd pudding candle holder (P000581)
6. 9.5cm 2 asstd pinecone and acorn decoration (689002)
7. 36.5cm polyresin antler Christmas tree (P007025)
8. 11.2cm polyresin robin on logs (P007034)
9. 90cm gold deer horn spray (P008558)
10. 11cm 3 asstd leaves ornament (P000625)
11. 13cm brown reindeer hanging decoration (P007557)
12. 1.20m natural tree garland (N979362)
13. 7.7cm squirrel in glass dome decoration (P007107)
14. 24cm polyresin acorn (P007036)
15. 17cm decorated pine cone with glitter – gold (P007695)
16. 15cm 2 asstd standing woodland squirrels (254033)
17. 11.5cm 2 asstd wood / glass tealight – brown (P007520)
18. 8cm glass wood effect tea light holder – reindeer (P007427)
Scandinavian Noel
White, blue and red are tones that will perfectly represent the Scandinavian theme. Let Gonks, Scandinavian version of Santa Claus, comfortably settle on your table. Not only will they bring a funky touch to your décor, they will amuse and intrigue your guests. Enhance your Christmas table with lanterns and frosted items to give a Nordic impression.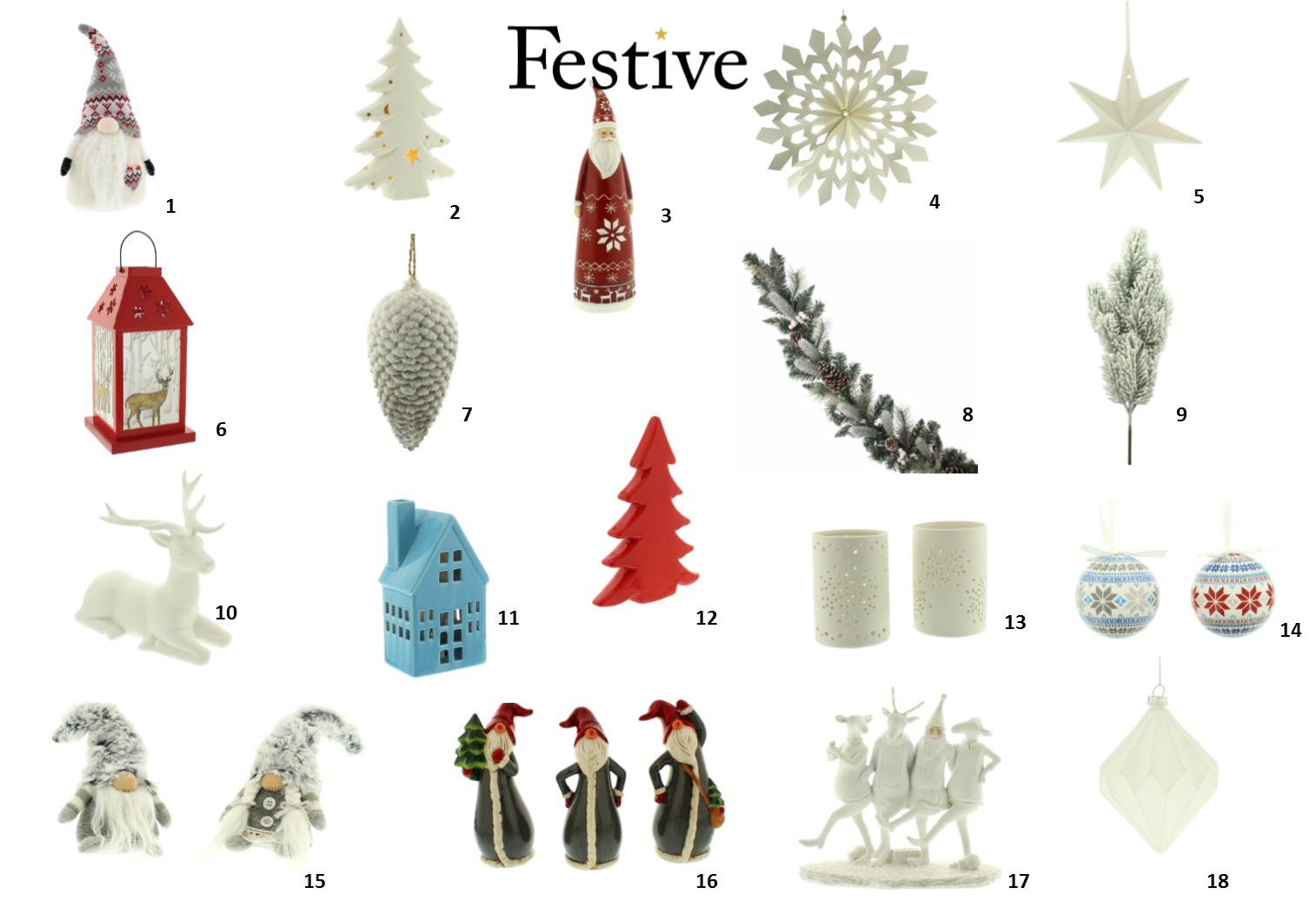 1. 34cm standing nordic gonk (P006116)
2. 24.5cm lit porcelain tree (P006844)
3. 29.5cm resin Santa decoration (P007017)
4. 40cm folding white paper snowflake (P008601)
5. 15cm porcelain star – white (P008695)
6. 24cm lit reindeer lantern (P008494)
7. 17cm snow pine cone (P008591)
8. 180cm berry and cone white garland (P002709)
9. 50cm snow pine spray (P008548)
10. 22cm white ceramic reindeer lying down (P007394)
11. 16cm lit house – blue (P006730)
12. 15cm porcelain tree – red (P006714)
13. 13cm 2 asstd porcelain tealight holders (P006728)
14. 8cm 2 asstd snowflake knit pattern decoupage ball (P007051)
15. 22cm 2 asstd Santa with round short feet (P007856)
16. 20cm 3 asstd nordic gonks (P006702)
17. 23cm nordic Santa pals (P008199)
18. 10cm white glass geometric drop (P006907)
Festive Romance
Spread affection and love during your Christmas dinner by adorning your table with red and gold prestigious ornaments. To suit this theme, berries, hearts, feathers, and flowers are more than appropriate!
1. 30cm table centre piece in red berry (157822)
2. 20 x 12cm twig twin tealight holder (N979353)
3. 11.4cm 2 asstd polyresin gold pheasant (P007030)
4. 180cm red poinsettia garland (P008582)
5. 70cm Glittered cone spray – red (P000999)
6. 7.5cm gold trinket box ball (P007190)
7. 48cm poinsettia and berry table centre (P001179)
8. 12cm red glass heart with flower design (P007132)
9. 11cm red candle holder with holly design (P007165)
10. 3m red mini berry garland (4715527R)
11. 25cm 2 asstd gold polyresin reindeer (117864)
12. 7.5cm candle ring in burgundy velour poinsettia (157983)
13. 14cm 2 asstd porcelain feathers – cherry red (P006853)
14. 46cm cream peony table centre (805358)
15. 75cm red velvet poinsettia spray (P008580)
16. 60cm red centre piece (P002726)
17. 8cm Scroll Ball – Matt Gold (P001829)
18. 3.5cm berry candle ring – red (P000761)
19. 20cm 2 asstd glittered lily & daisy table centre (253562)