Festive Nutcrackers
Since the 20th century, nutcrackers have been symbolising the Christmas spirit. However, the reasons why German soldier dolls became associated with the festive season remains quite unclear. A brief look at the history of nutcrackers can help understand the process that gleefully brought them into Santa's world.
The first nutcrackers, which saw the day in 17th century Germany, were primarily shaped into animals and people. In the late 1600s, woodcarvers started to produce soldier-doll nutcrackers. According to the legend, a lonely farmer, eager to work more efficiently, wanted to gain time when cracking nuts. Therefore, he asked his fellow villagers to create an innovative tool that would allow him to complete the nut cracking faster. The winner of the informal competition turned out to be the puppet maker who built an ingenious lever-mouthed wooden doll. Since then, nutcrackers, which were thought to bring good luck to the household, became extremely popular.
Nutcrackers as we now know them became iconic Christmas characters thanks to the eponymous ballet. Based on the novel 'The Nutcracker and the King of Mice', the ballet was first performed in St Petersburg in 1892. The show was met with success when exported into the US in the 20th century. Today, the renowned 'Nutcracker' is highly appreciated by families during Christmas. The association between nutcrackers and Christmas is also believed to come from the fact that nuts are eaten during winter, immediately linking it to the seasonal holidays.
This year, an army of nutcrackers has joyfully invaded Festive. Hung on a Christmas tree or placed on a piece of furniture, our adorable German-inspired soldiers are ideal to adorn any home with merriment and style. Our range is extremely diverse as our figurines, made from different materials, possess original physical attributes, making each of our nutcrackers unique.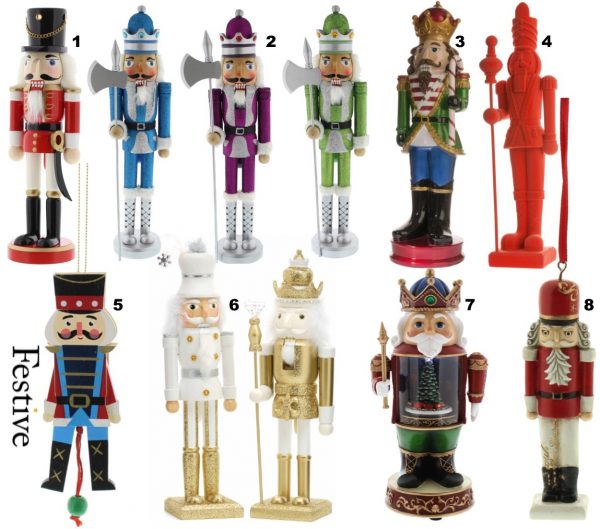 And it will display like this:
1. 26.5cm wooden nutcracker / solider (P011526)
2. 60cm 3 asstd glitter nutcrackers (P014848)
3. 62cm nutcracker (P014852)
4. 43cm flocked resin nutcracker – orange (P015253)
5. 12cm wooden nutcracker with moveable arms (P011569)
6. 38.1cm 2 asstd silver & gold nutcrackers (252114)
7. 30cm lit musical nutcracker (P011159)
8. 10cm hanging nutcracker decoration (P008215)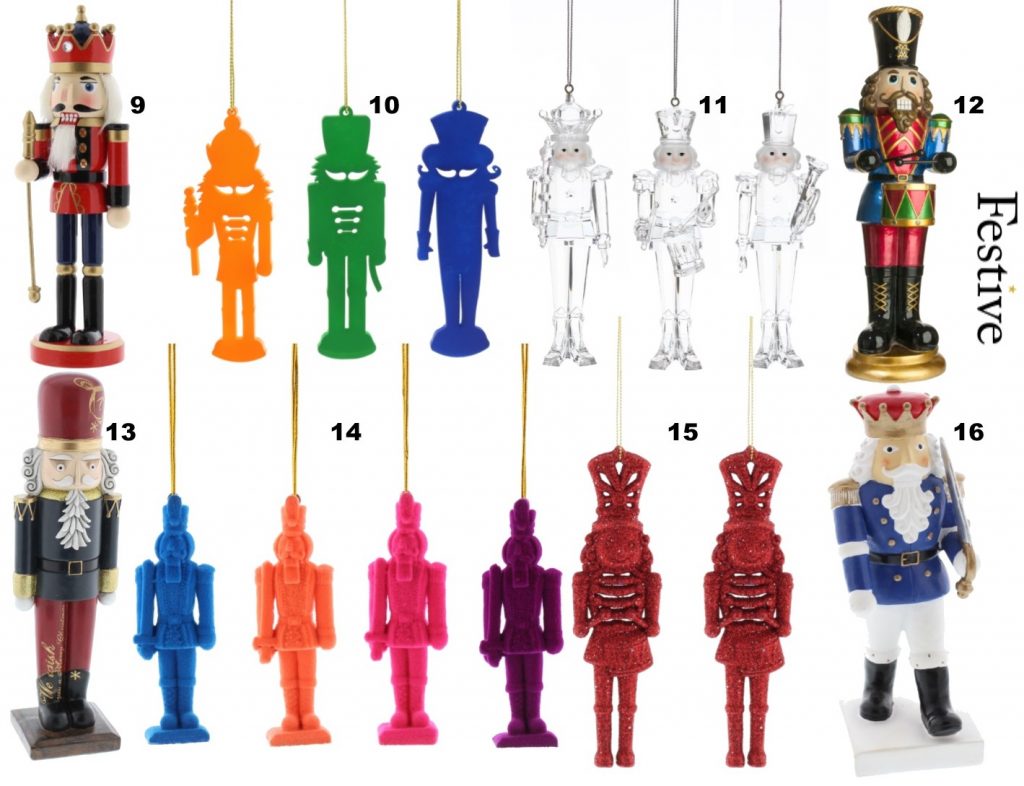 9. 26.5cm traditional wooden nutcracker (P011525)
10. 10.4cm x 3 asstd acrylic nutcracker decorations (P013313)
11. 12cm 3 asstd hanging acrylic nut crackers (P011143)
12. 86cm nutcracker (P014851)
13. 37cm polyresin nutcracker decoration (P014402)
14. 8cm 4 asstd flocked resin nutcracker decs (P015257)
15. 15cm 2 asstd red glitter nutcrackers (P013715)
16. 20cm resin nutcracker (P011690)