Festive Plush Pals

Festive plush collection has considerably expanded this year. Whilst new adorable animals have been added in our fabulous range, creatures already composing our line, have welcomed more relatives. Traditional Christmas characters, including our Scandinavian Santas (gonks), have seen their recruits increase. Furthermore, many of our new plush pals have been conceived by our talented design team.
New arrivals can be noticed in our fantastic plush range. Cheeky foxes, lovely sheep, wonderful raccoons, and imperial owls have recently shown up at Festive to merrily enliven Christmas.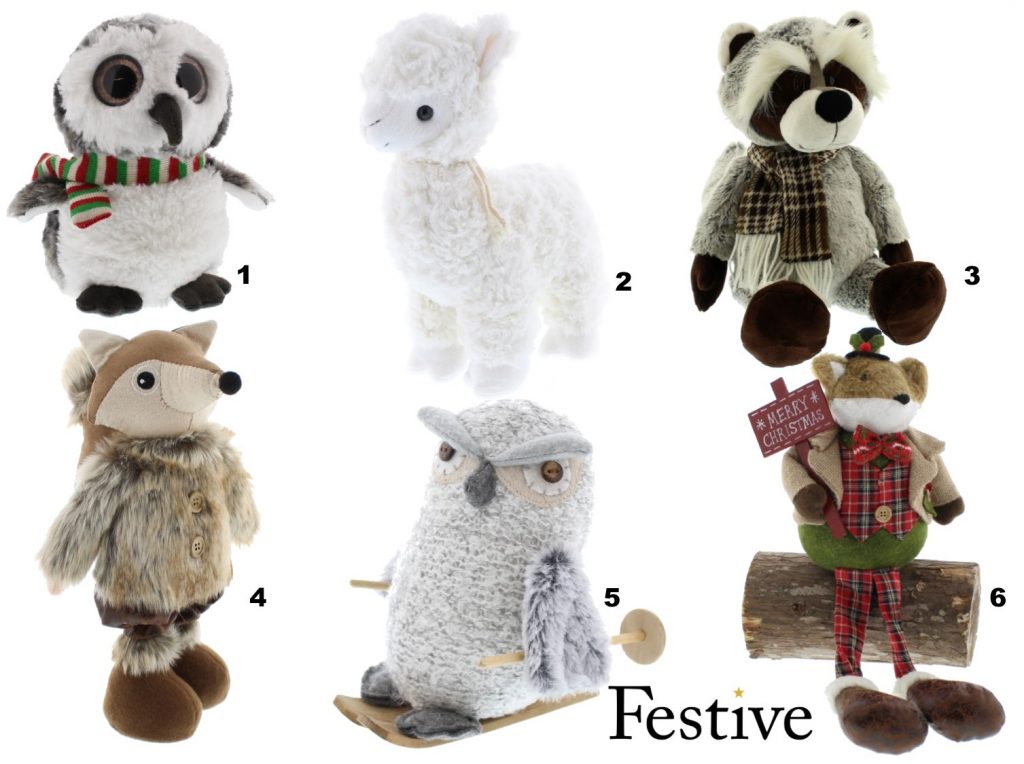 1. 19cm plush owl with scarf – black and white (P013348)
2. 30cm plush sheep (P015282)
3. 25cm grey plush raccoon with scarf (P010223)
4. 56cm standing fox with fur jumper (P010465)
5. 18cm grey and white skiing owl (P010461)
6. 53cm tartan sitting foxes (P013588)
Our marvellous reindeers, bears, and mice have also seen their family expand this year.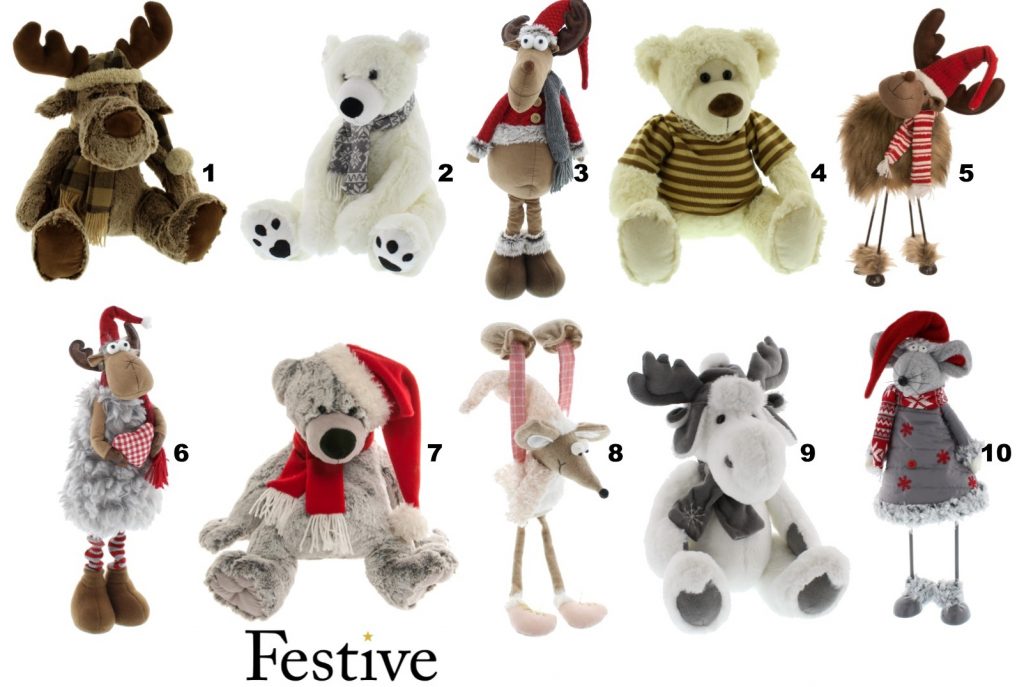 1. 27cm brown plush reindeer with hat and scarf (P010221)
2. 35cm white plush polar bear (P015281)
3. 43cm standing grey fur trim reindeer (P013536)
4. 30cm cream plush bear with sweater (P010224)
5. 65cm wobble reindeer (P015168)
6. 53cm standing fluffy reindeer (P013620)
7. 30cm plush bear with Santa hat (P015023)
8. 50cm red and white mouse with dangly legs (P010463)
9. 26cm plush reindeer with scarf – white / grey (P013347)
10. 100cm wobble mouse (P014788)
In 2017, Festive is introducing more Santas, snowmen, elves, and gonks. These cheery characters are perfect to embody the jolly spirit of Christmas.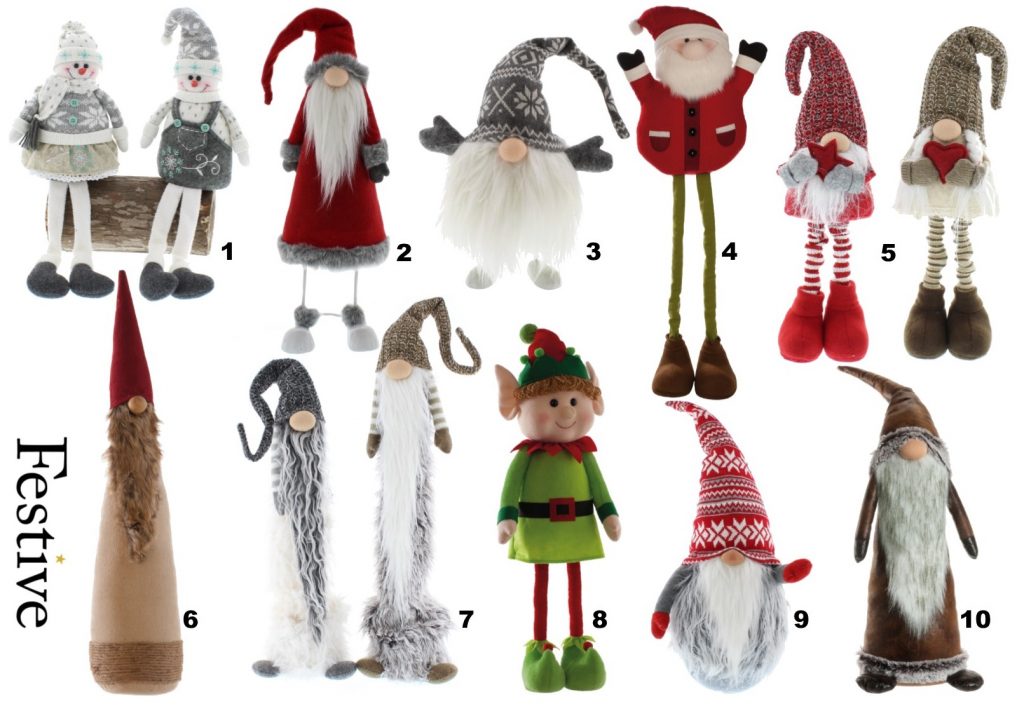 1. 50cm 2 asstd boy and girl snowflake snowmen (P013576)
2. 78cm wobble gonk (P015165)
3. 47cm grey wobble gonk (P015170)
4. 170cm standing Santa with extendable legs (P013581)
5. 57cm 2 asstd extendable leg heart and star gonk (P013606)
6. 56cm Nordic cone Santa (P013564)
7. 87cm 2 asstd extendable furry gonks (P013634)
8. 60cm 2 asstd standing elves (P012920)
9. 68cm tumble gonk (P014787)
10. 66cm leatherette gonk (P015609)
Our new plush collection has greatly benefited from the expertise of Festive designers. Our home-designed reindeers and gonks are ideal to bring an ounce of glee and originality to any décor.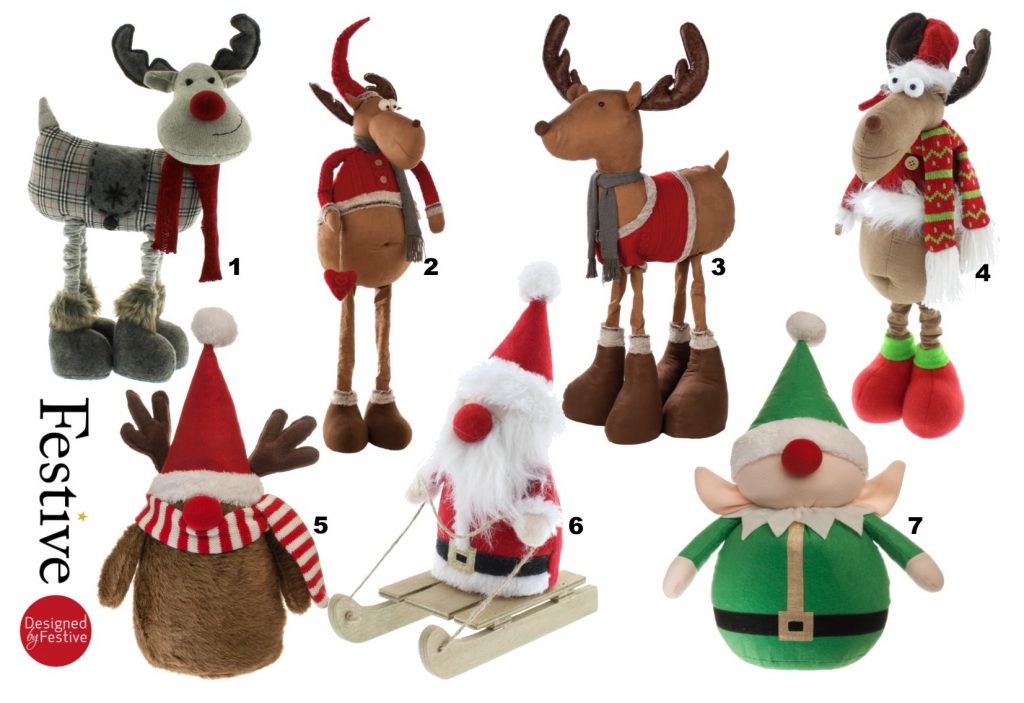 1. 65cm standing reindeer with faux fur (P007834)
2. 130cm grey fur trim reindeer with extendable legs (P013534)
3. 170cm standing grey fur trim reindeer (P013538)
4. 67cm standing white fur trim reindeer (P013531)
5. 35cm reindeer gonk (P013608)
6. 30cm Santa gonk on sleigh (P013612)
7. 53cm elf gonk (P013616)
Look out for the 'Designed by Festive' logo for exclusive Festive products.