Festive in print… Daily Mail – December 2016
At Festive, we are always happy to reveal the fabrication process of our twinkling and colourful tinsel. This year, we have welcomed photographers so they could show the work of our staff in the tinsel factory.
These pictures can be seen on the Daily Mail website. As the popular website highlights, Festive is the largest tinsel manufacturer in the UK. During our busiest time (May to November), 650,000ft of sparkly tinsel are produced per month, and 130 seasonal jobs are created.

Our tinsel is made from metallised polyvinyl chloride (PVC) which is cut into bands. These strips are then attached to a solid wire thanks to a machine resembling a candy-floss maker.
Festive tinsel is sold to retail shops, high street stores, and garden centres, in the UK and abroad.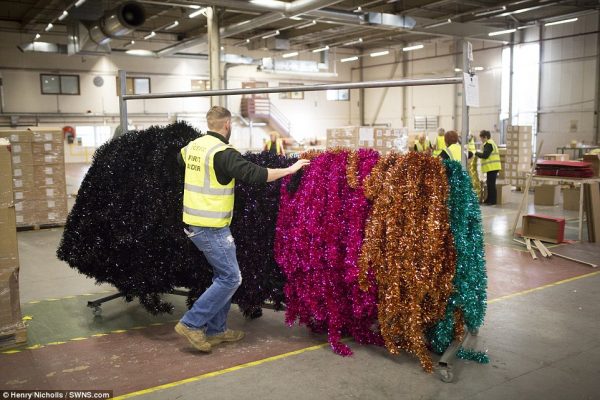 Festive Productions was founded in 1983. 11 years after, our company attended its first trade show. In 2017, Festive will be at Harrogate Christmas & Gift Fair, from Sunday 8th to Wednesday 11th January (stand: C1), and at NEC Spring Fair, from Sunday 5th February to Thursday 9th February (stands: 2E30 – F31).
Our showrooms in Cwmbran, exhibiting our 2017 collection, are now open.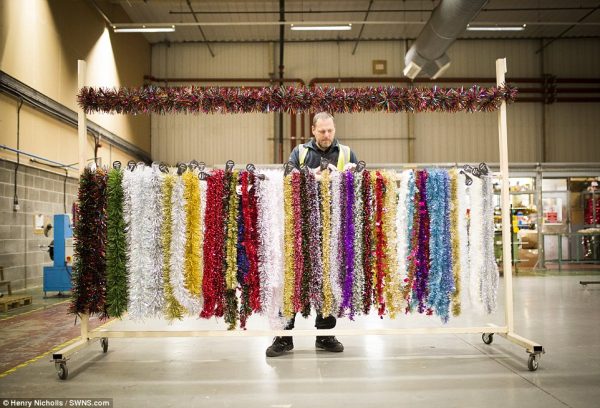 Here is the full Daily Mail article: http://www.dailymail.co.uk/news/article-4022522/Inside-Welsh-factory-produces-650-000-ft-Christmas-decoration-MONTH.html