How to decorate a mantelpiece
Your fireplace mantel is a central spot in your house. Often used as a background for joyful family pictures, your mantelpiece will make a huge difference if beautifully decorated.
Rules
Before decorating your fireplace mantel, remove anything on and around it. Emptying your mantel will allow you to have a clearer vision of what you can do. Start by evaluating the unique characteristics of your mantel. Look attentively at its colours and shape as these features will help you in your design mission.
Try to take the overall style of your living room into account. And, do not forget the rest of your décor. Matching your mantel to your Christmas tree will dramatically reinforce your decorating theme.
It is essential to choose a theme. In general, 4 main themes can be distinguished.
Merry Spirit focuses on the traditional and cheery aspects of Christmas. Therefore, this theme would require red and green ornaments, Santa decorations, jingle bells, and gleeful signs.
If refinement is your byword, then Winter Chic appears to be the perfect theme with its gold, copper, and silver candle holders and reindeers.
The third theme is Christmas Gardens which places nature at its core. Whilst you can choose to go with the rustic version by favouring wooden decorations, pine cones, and woodland animals, the romantic variant is often composed of red berries and poinsettias.
Finally, Polar Festivities will suit you if you like Nordic Santa, penguins and snowflakes.
When you decorate your mantel, focus on 3 key parts: above, on, and below the piece. Whilst you might want to hang wreaths or signs on the wall above, you can place garlands, candle holders, flowers, figurines, or lights on your mantel. Do not forget to hang your stockings underneath your mantel. Make sure they match your décor.
Think about safety. Avoid placing heavy and unstable elements on your mantel as they could fall down and hurt anyone passing by, especially the little ones. It is also important to keep inflammable items away from your fire.
Merry Spirit
Bring a festive cheer to your fireplace mantel by adding jolly Santas, amusing signs, gleeful buntings, and musical bells.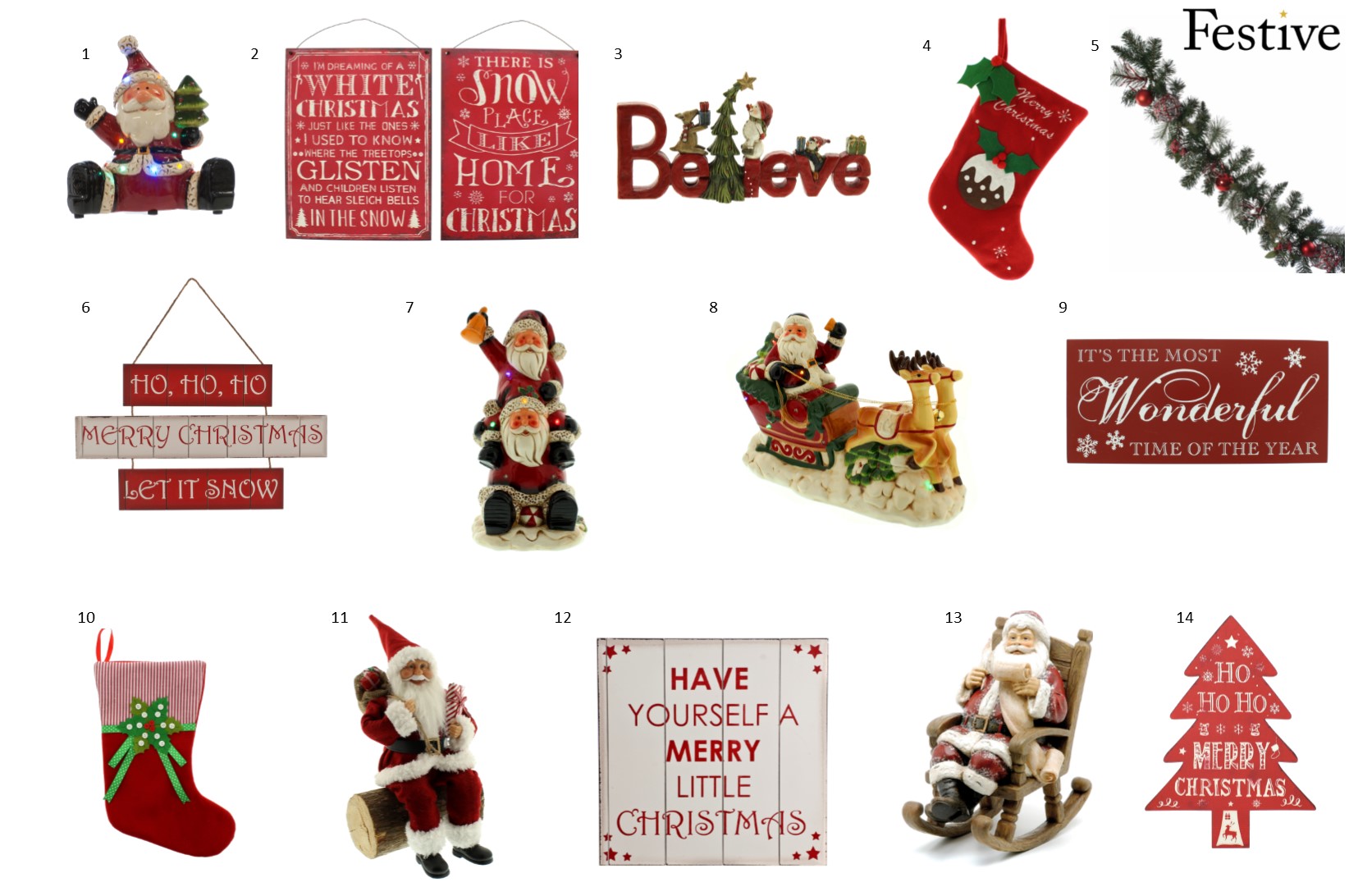 1. 21cm lit sitting Santa (P004525)
2. 30cm 2 asstd red metal Christmas signs (P007721)
3. 32cm believe decoration (P008187)
4. 39cm red felt stocking with christmas pudding (P008698)
5. 180cm red ball garland (P002715)
6. 59cm x 36cm triple hanging sign (795987)
7. 27.5cm lit Santa with music (P006684)
8. 31cm dolomite Santa / sleigh with lights and music (P006676)
9. 38cm red Christmas sign (P007745)
10. 39cm red felt stocking with holly design (P007339)
11. 45cm sitting Traditional Santa (P008342)
12. 40cm x 40cm merry christmas sign (795956)
13. 15.3cm sitting antique finish santa (170951)
14. 32cm metal tree with HO HO HO and Merry Christmas (P007529)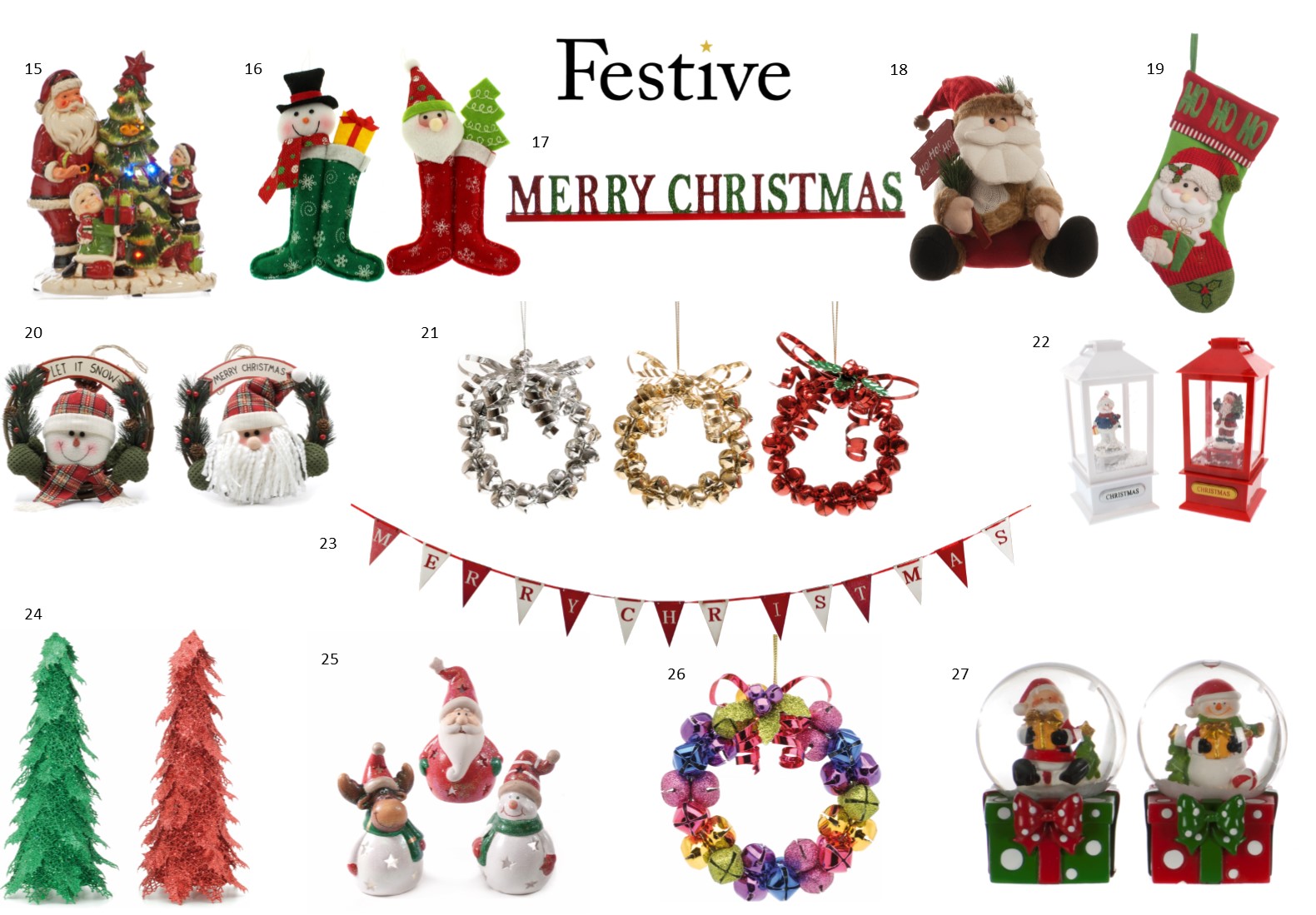 15. 28cm lit Santa and tree (P004523)
16. 19cm 2 asstd plush stocking shape decoration (P007679)
17. 50cm red/green merry xmas sign (808243)
18. 44cm 2 asstd sitting santa and snowman (P007823)
19. 52.5cm Santa Stockings (P000316)
20. 25cm 2 asstd wicker wreath – Santa / snowman head (116973)
21. 10cm x 1.5cm 3 asstd jingle bell wreath (117161)
22. 18cm 2 asstd bo snowing musical lantern (P006363)
23. 90cm red/white wooden garland (788880)
24. 23cm 2 asst red and green table top tree (248711)
25. 16.5cm 3 asstd candle holder – red / green (P000702)
26. 10cm brights jingle bell tree trim (256112)
27. 7cm 2 asstd gift parcel snowglobe (787128)
Winter Chic
Create a glamourous and elegant realm by using golden, copper, and/or silver decorations, such as majestic reindeers, wonderful candle holders, and graceful plaques.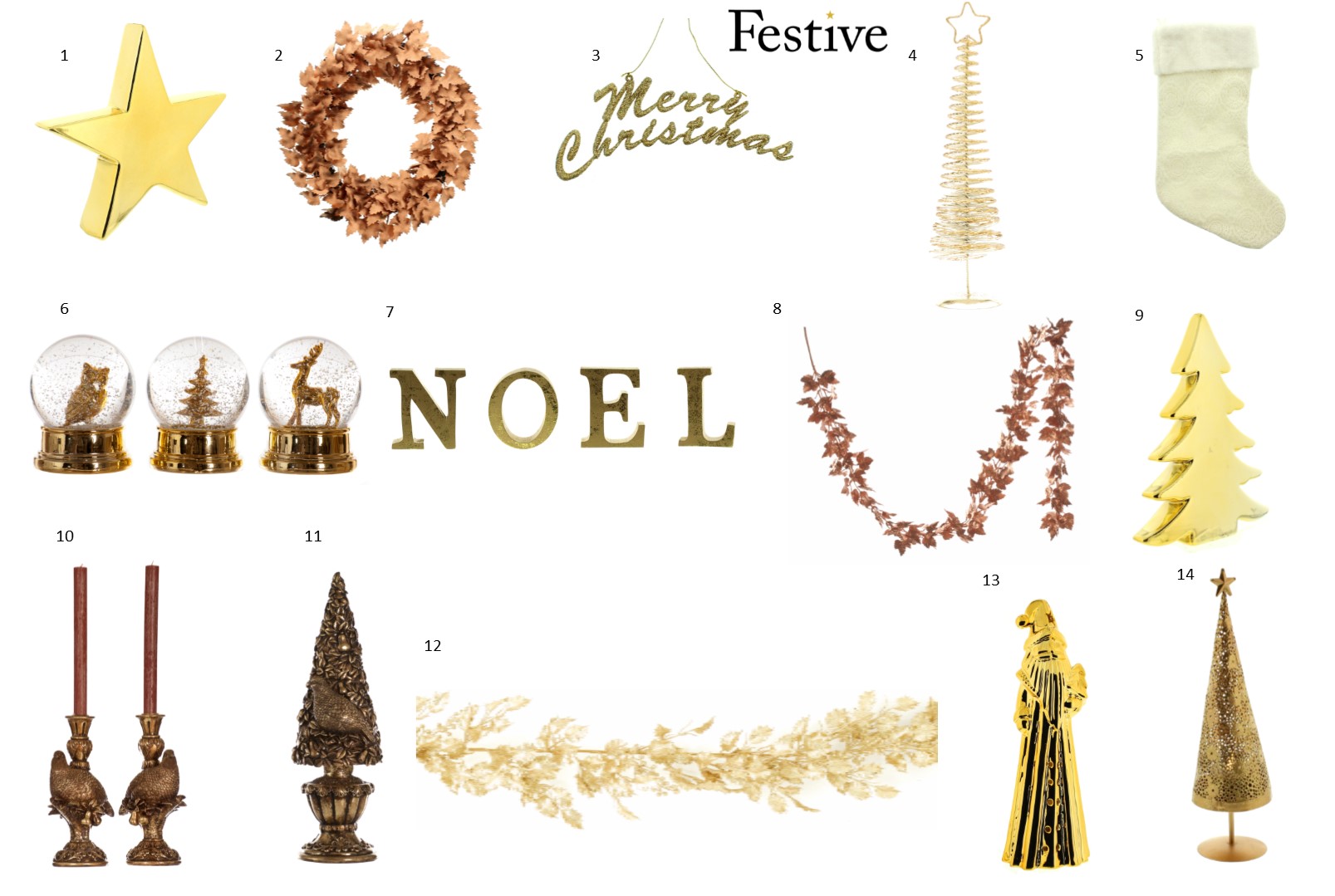 1. 17cm porcelain star – gold (P006706)
2. 35cm copper ivy wreath (P008541)
3. 18.8cm Merry Christmas hanging ornament – gold (P007495)
4. 30cm gold glittered metal table top tree (109463)
5. 50cm white stockng with white trim (P007863)
6. 8.5cm 3 asstd gold table top snowglobe (788989)
7. 9cm gold wooden noel letters (709342)
8. 180cm copper ivy garland (P008540)
9. 20cm porcelain tree – gold (P006712)
10. 24cm 2 asstd pheasant candle holder – gold (P000700)
11. 35.5cm potted tree decoration – gold (P000699)
12. 180cm golden glitter holly berry garland (254781)
13. 28cm lit porcelain Santa – gold (P006722)
14. 40cm metal chunky cone shape tree with led lights (P007545)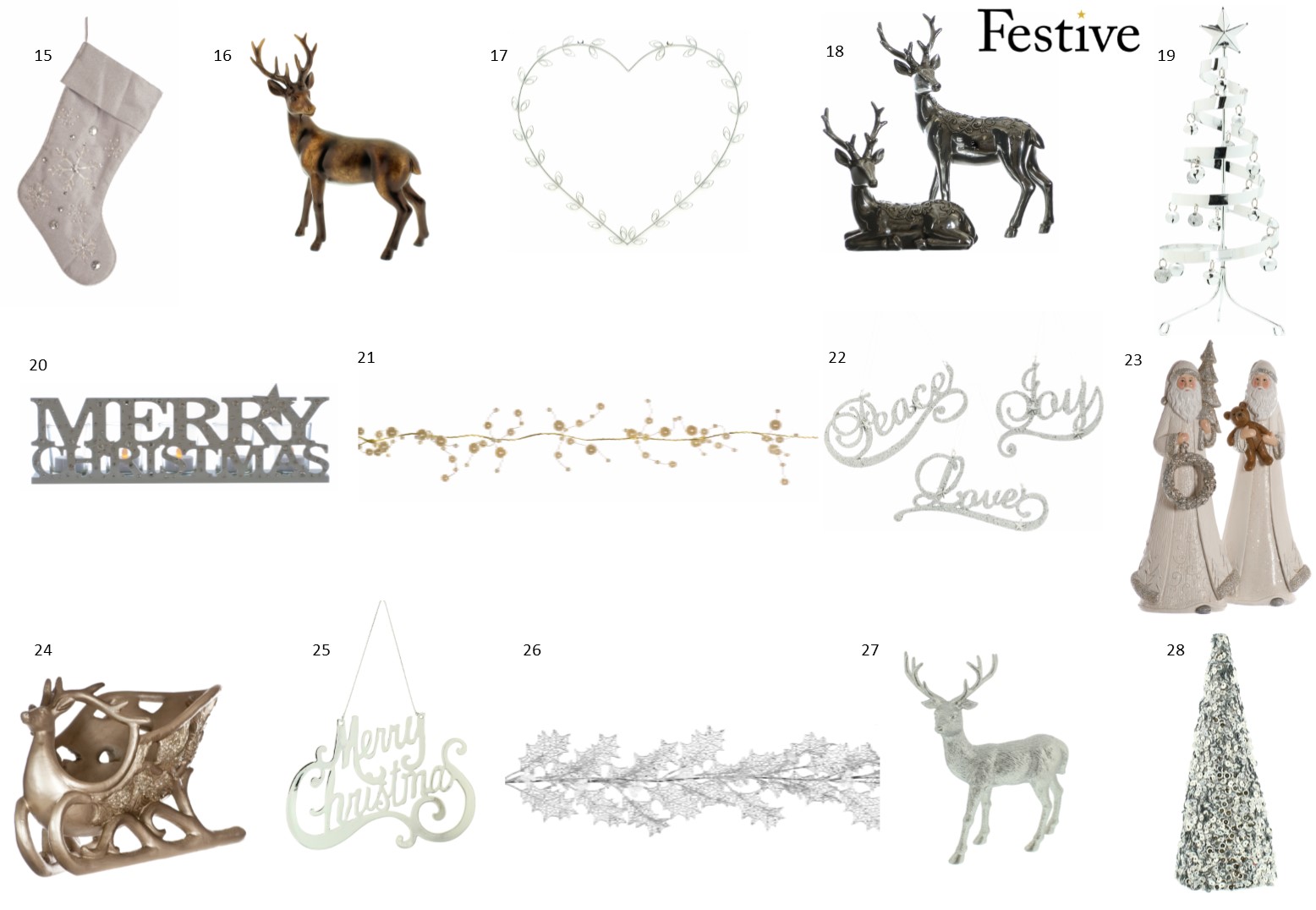 15. 40cm silver felt stocking with snowflake emboidery (P007606)
16. 22.5cm polyresin standing reindeer – copper colour (P007037)
17. 49cm metal heart card holder – silver (247233)
18. 22cm set of 2 silver deer (688876)
19. 30cm luxury spiral sleigh bell tree-silver (176373)
20. 37.5cm silver merry christmas tea light holder (800629)
21. 200cm gold pearl bead garland (709922)
22. 16cm 3 asstd approx silver glittered (236565)
23. 23cm 2 asstd standing santa with decoration (797714)
24. 31.5cm reindeer style sleigh – champagne (P000664)
25. 13cm metal plated flat word – silver (P006662)
26. 180cm silver glitter holly garland – white berries (P000839)
27. 31.5cm silver glitter standing reindeer (P007441)
28. 25cm cone tree with glitter and sequin (P007604)
Christmas Gardens
Give your mantelpiece a natural and refreshing look by choosing flowers, red berries, pine cones, and adorable forest animals.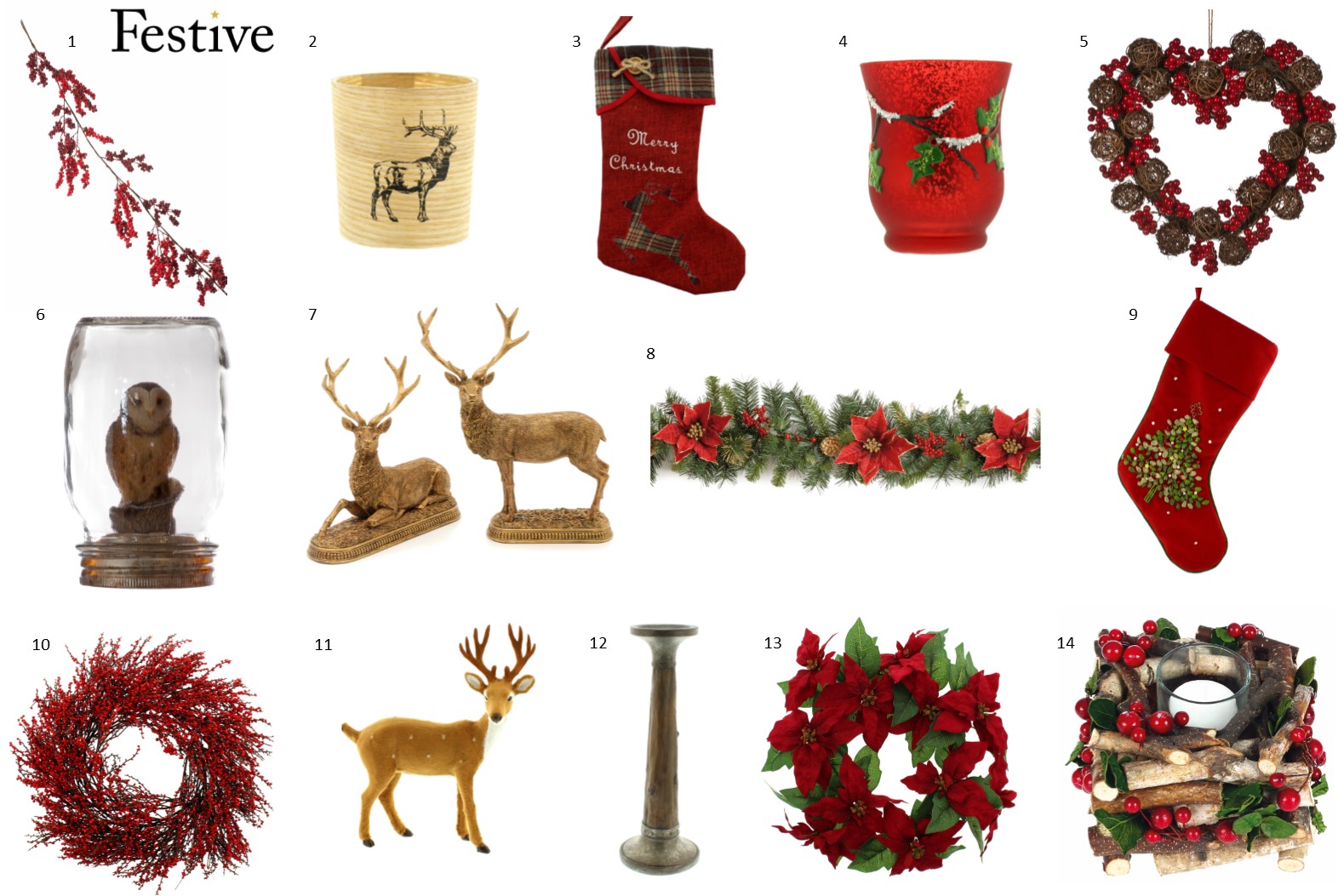 1. 180cm mixed berry garland (P006432)
2. 8cm glass wood effect tea light holder – reindeer (P007427)
3. 47cm red and tartan stocking with reindeer design (P007831)
4. 11cm red candle holder with holly design (P007165)
5. 35cm berry heart wreath (802593)
6. 13.5cm owl in glass jar (P000672)
7. 25cm 2 asstd gold polyresin reindeer (117864)
8. 180cm two tone green pine garland – traditional (124640)
9. 40cm red felt stocking with tree embroidery (P007605)
10. 45cm berry wreath (P008577)
11. 27cm brown standing table top reindeer (P007556)
12. 34cm wood effect candle stick (P008191)
13. 33cm red velvet poinsettia wreath (P008583)
14. 12cm twig tealight holder w/leaf & berry (N979352)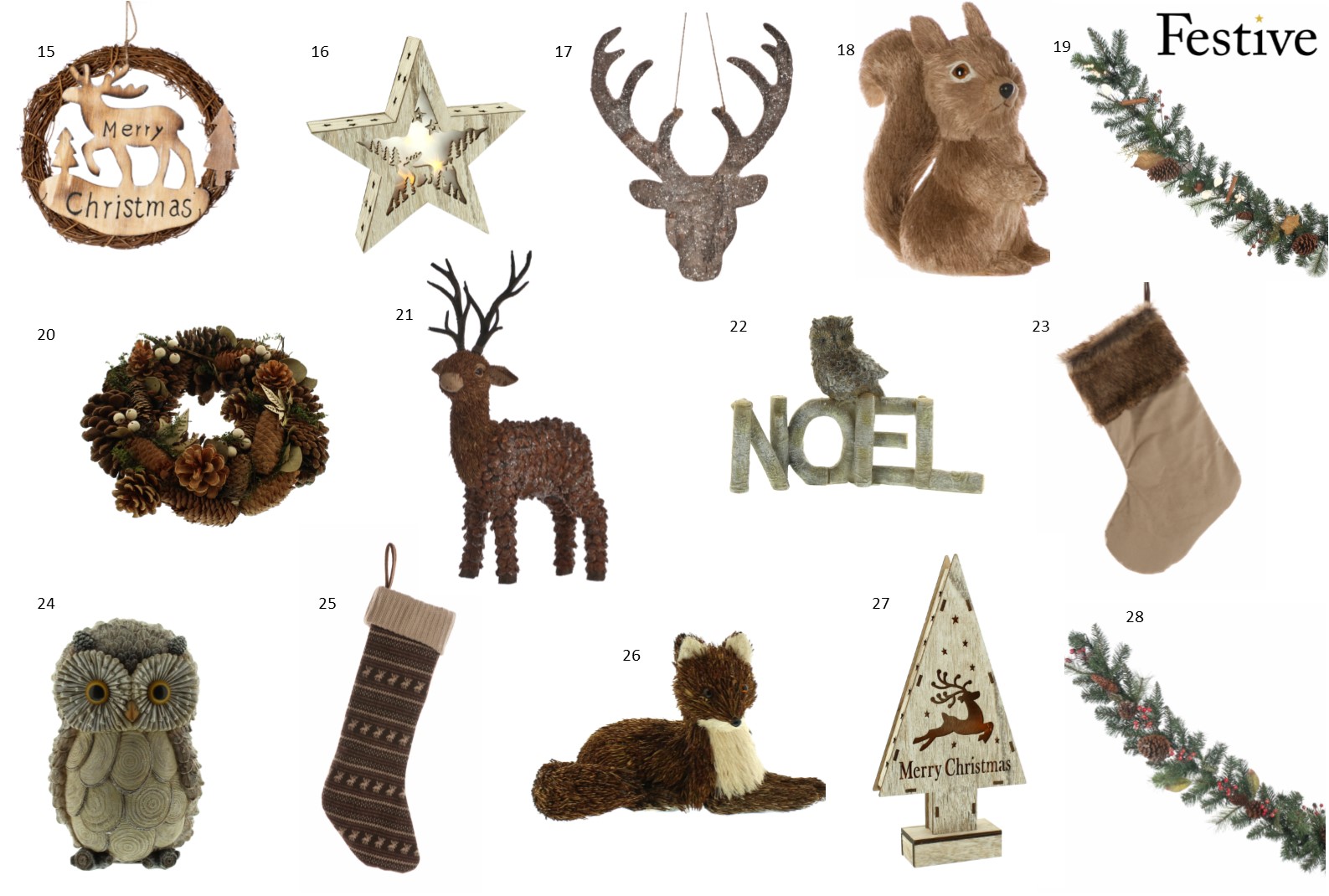 15. 27cm moose wreath (P003918)
16. 22cm bo lit reindeer star with timer (P006955)
17. 34.5 X 25.5cm wood reindeer head (P000796)
18. 15cm standing brown bristle squirrel (684977)
19. 180cm cinnamon and cone garland (P002711)
20. 30cm red berry pine cone wreath (P006586)
21. 29cm standing deer with pine cone body (P000558)
22. 25cm rustic noel owl (P008214)
23. 53cm brown fabric stocking with fur trim (P007430)
24. 21cm woodland owl (P008208)
25. 52cm brown and cream patterned stockings (P007828)
26. 15cm lying natural brown fox (P006589)
27. 30cm bo lit reindeer tree with timer (P006958)
28. 180cm berry and cone green garland (P002699)
Polar Festivities
Produce a winter wonderland scenery by favouring Nordic Santas, frosted garlands, white and clear figurines, as well as penguins and polar bears.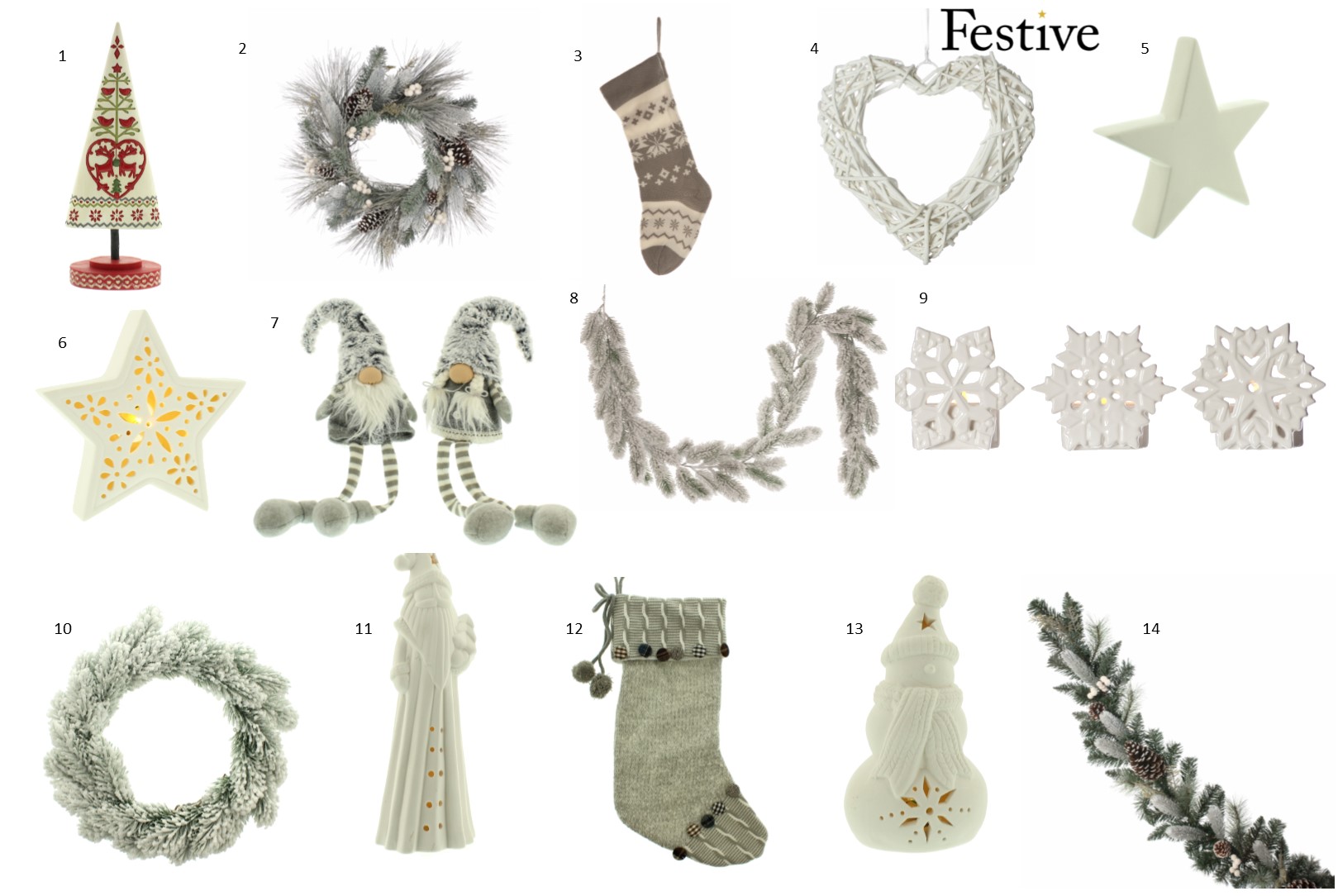 1. 40cm nordic Christmas tree (P008194)
2. 60cm berry and cone white wreath (P002708)
3. 55cm christmas stockings (P007844)
4. 32cm white willow hanging heart wreath (712557)
5. 17cm porcelain star – white (P006707)
6. 14.8cm table top ceramic star with led lights (P007408)
7. 70cm 2 asstd sitting grey and white gonk (P007813)
8. 160cm snow pine garland (P008586)
9. 8cm 3 asstd snowflake candle holder – white (P000640)
10. 33cm snow pine wreath (P008559)
11. 28cm lit porcelain Santa – white (P006723)
12. 50cm grey stocking with button detail (P007866)
13. 16cm lit porcelain snowman (P006843)
14. 180cm berry and cone white garland (P002709)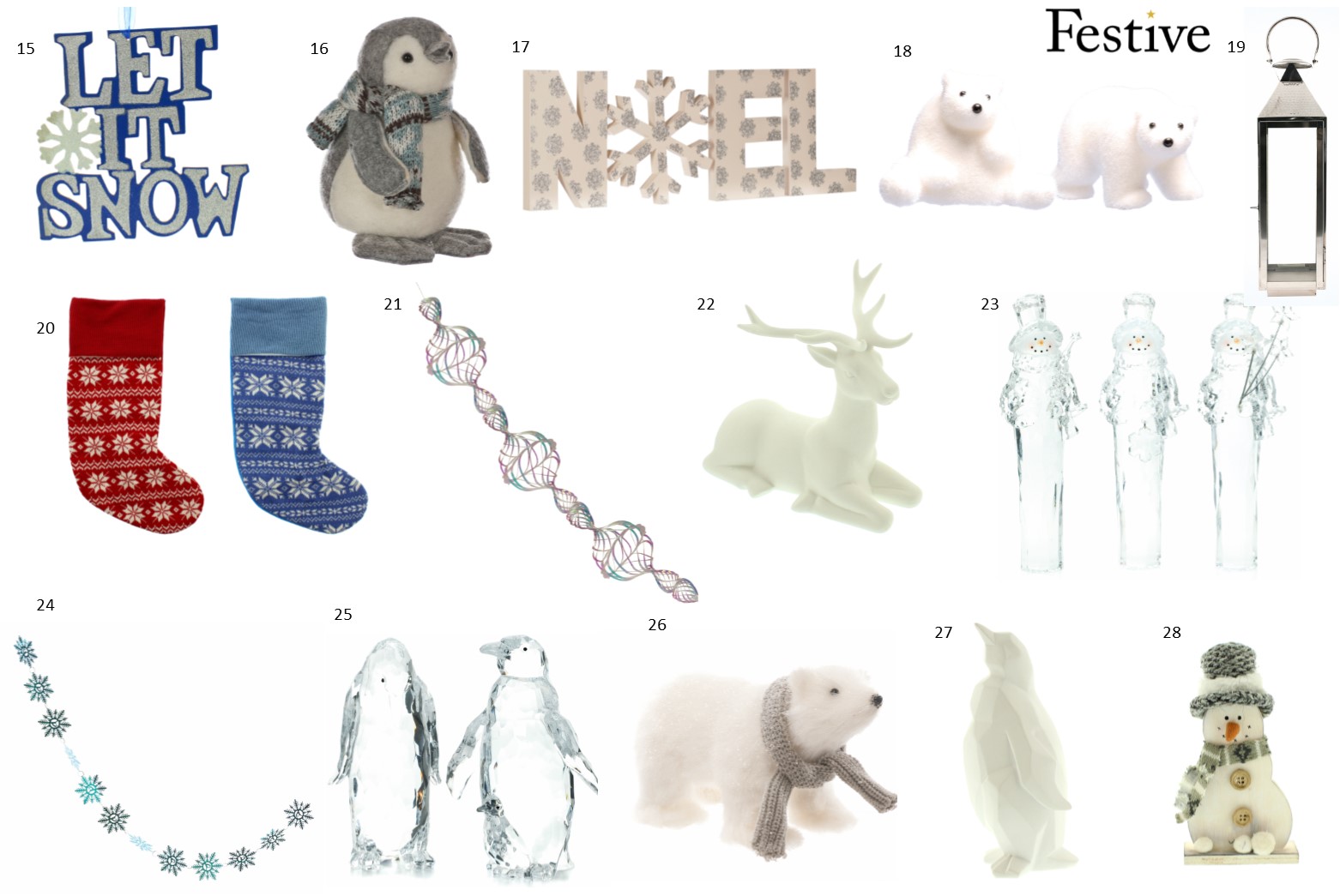 15. "26.6cm ""LET IT SNOW"" hanging sign with glitter" (P007618)
16. 12cm standing penguin – grey (P001138)
17. 20cm silver / white wooden NOEL text table piece (P004153)
18. 13cm/15cm 2 asstd polar bear tree trim (122165)
19. 17cm x 56cm shiny steel/glass lantern (NQ410622)
20. 53cm red knitted snowflake pattern stocking (P007582)
21. 370cm holographic spin garland (P006979)
22. 22cm white ceramic reindeer lying down (P007394)
23. 25cm 3 asstd clear acrylic snowman (634422)
24. 119cm snowflake garland – blue (P007623)
25. 2 asstd 15cm acrylic penguin (177349)
26. 30cm white walking bear (P000413)
27. 19cm geometric white penguin (P008830)
28. 19cm tabletop snowman (P007859)