How to decorate your entrance
The entrance to your home, comprising your front door, patio and hallway, is the first thing your guests will see when coming over for Christmas. It is therefore important to make an excellent impression. Not only should your entrance feel welcoming, it should also get your guests into a festive mood.
General ideas
Outdoor entrance
Start with your front door. Whilst hanging wreaths or teardrops will give a fabulous and delightful look to your door, stockings, signs, or tinsel will add an original touch to your entrance. Do not forget to adorn your windows and the external sills with ribbons or garlands. Your patio can be embellished with refreshing plant pots, gleaming lanterns, or small trees.
Indoor entrance
Hallways are often disregarded as places where coats and shoes are carelessly dumped. Before decorating, clean your hall. You can remove your junk mail, out-of-season shoes, coats, and old magazines. This initiative will create space for your guests, and will make them feel more comfortable. After, getting rid of all your useless items, focus on decorating your pieces of furniture, such as your console table, bench, coat rack, and mirror. Remember to ornament your stairway case with garlands if present in your entrance.
Themes
It is essential to think about your overall Christmas design. If you have already decorated your tree, try to keep the same theme to show you have thought about your entire décor with fabulous coherence.
The festive season is marked by many different themes. You can reinforce the traditional spirit of Christmas by favouring classical colours like red and green, amusing signs, and Christmas symbols such as mistletoe. Your Christmas design can also be glamourous and royal with gold and glittering decorations, leaf garlands, and candelabras. You can also bring elegance to your entrance by choosing silver ornaments and sophisticated reindeers. A romantic touch can be added to your home with luxurious floral decorations, such as red poinsettias and berries. Place nature at the core of your entryway by choosing greenery, animal figurines, plants, and wooden ornaments. You can create a Scandinavian realm by decorating your entrance with white stars, twinkling lanterns and frosted garlands. Immerse your entrance into the polar world by using blue, white, and iridescent snowflakes, stars, penguins, and bears.
Traditional Spirit
Jolly Santas, gleeful reindeers, and delightful plaques are perfect to bring a festive cheer to your home entrance. You can reinforce the traditional essence of Christmas by using red and green decorations.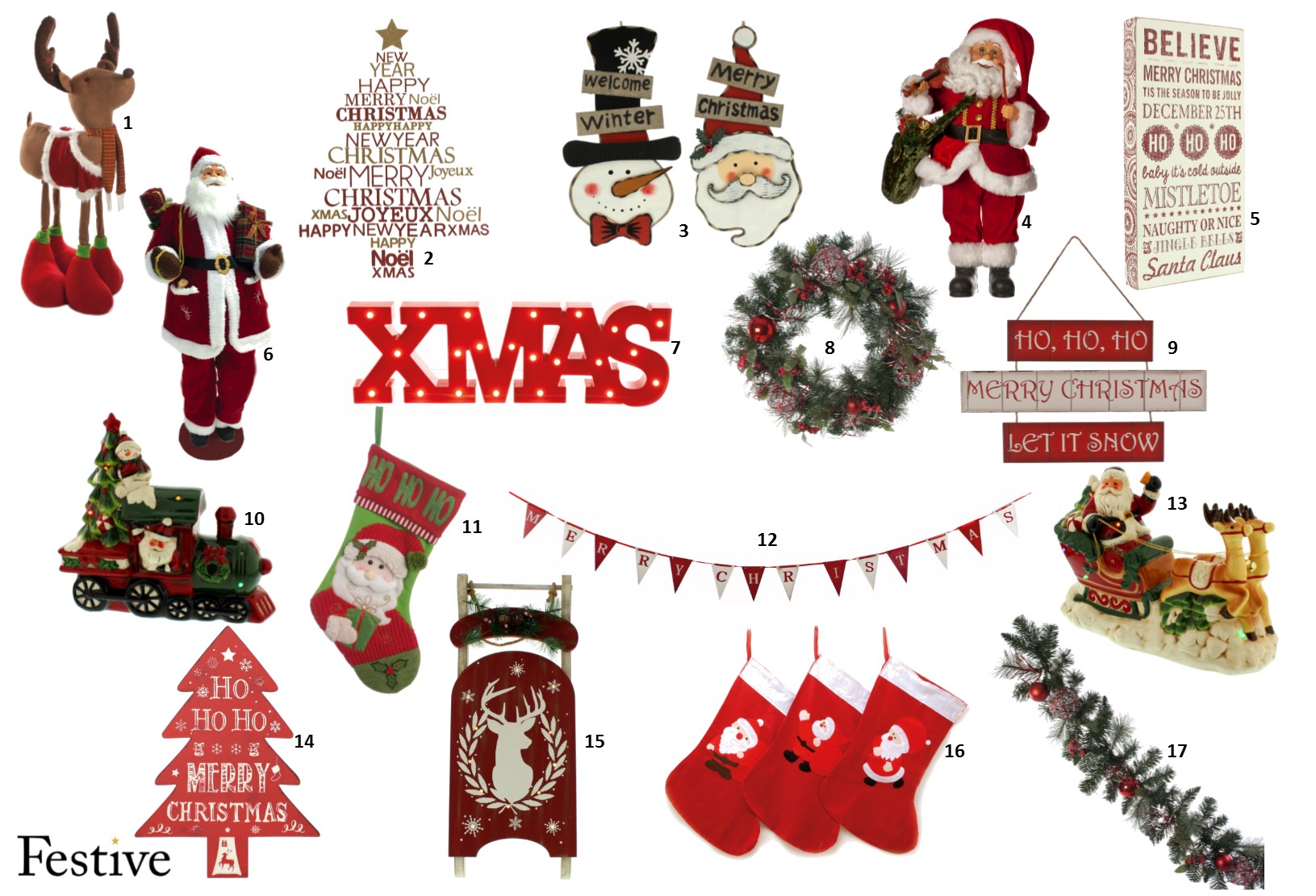 1. 165cm standing reindeer (P007788)
2. 69cm tree shape wall sticker with Christmas words (P007387)
3. 38cm 2 asstd hat signs (P008842)
4. 45cm bo musical Santa with violin (P003868)
5. 40cm wooden frame sign with glitter (P007727)
6. 180cm dancing musical Santa (P008606)
7. 69cm bo Xmas sign with led lights (P006133)
8. 60cm red ball wreath (P002714)
9. 59cm x 36cm triple hanging sign (795987)
10. 28cm lit dolomite train with music (P006680)
11. 52.5cm Santa Stockings (P000316)
12. 90cm red/white wooden garland (788880)
13. 31cm dolomite Santa / sleigh with lights and music (P006676)
14. 32cm metal tree with HO HO HO and Merry Christmas (P007529)
15. 60cm lit sledge – reindeer (P008492)
16. 87.5cm 3 asstd super value stockings (130412)
17. 180cm red ball garland (P002715)
Royal Christmas
Create a world of refinement and glamour by favouring twinkling golden ornaments. Add sophistication to your entrance with majestic reindeers, elegant candle holders, and garlands made of superb leaves.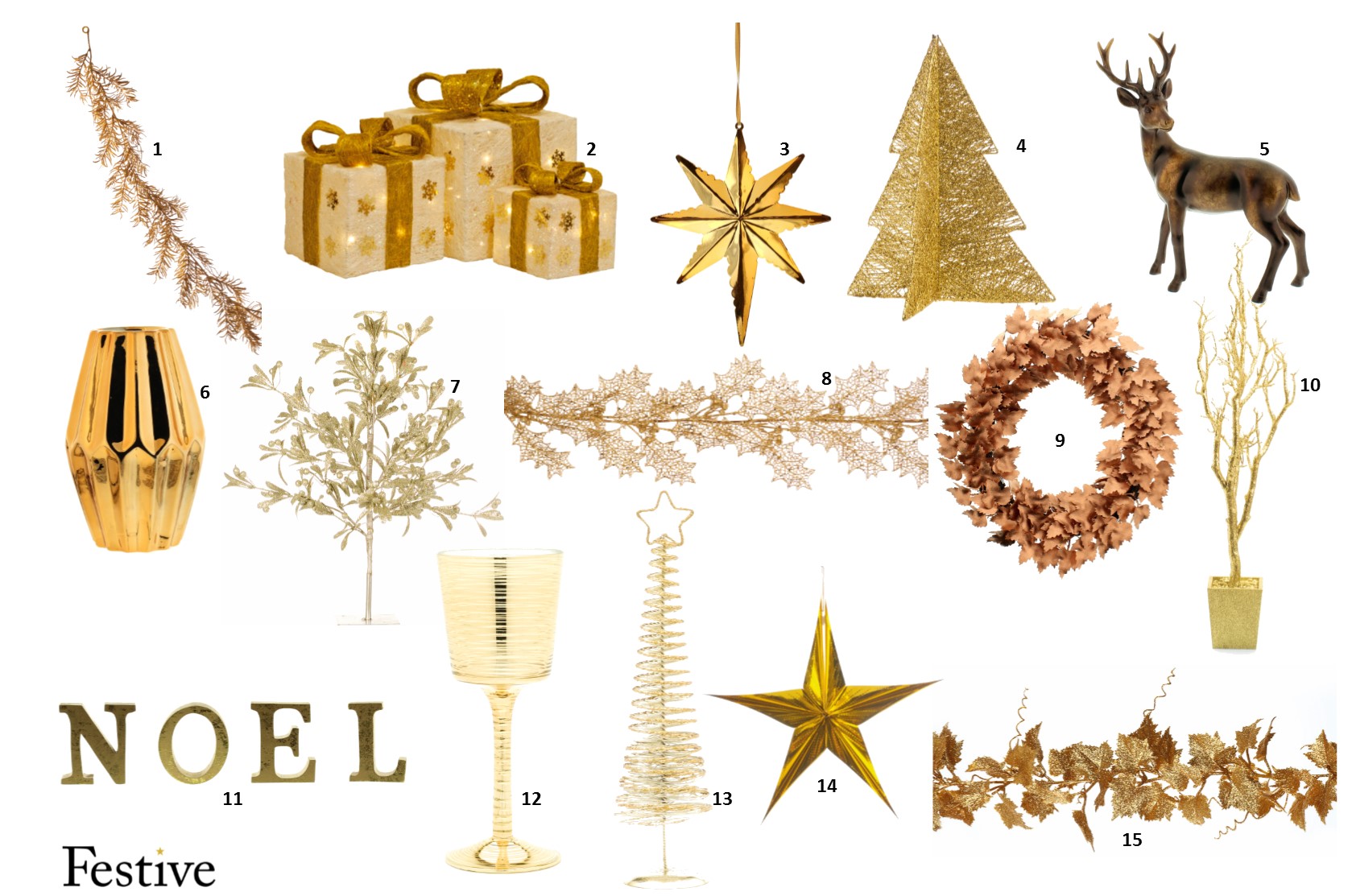 1. 180cm glittered juniper garland – gold (P002241)
2. display:36 x set/3 square gift (NW59750WG)
3. 15cm metal starburst ornament – rose gold (P007467)
4. 45.5cm wire and glittered string Christmas tree (P007707)
5. 22.5cm polyresin standing reindeer – copper colour (P007037)
6. 15cm porcelain angular vase – copper (P006738)
7. 70cm glitter mistletoe tree – gold (689729)
8. 180cm gold glitter holly garland with gold berries (P000840)
9. 35cm copper ivy wreath (P008541)
10. 120cm gold glitter twig look tree in pot (256686)
11. 9cm gold wooden noel letters (709342)
12. 18cm gold ribbed effect candle votive (252688)
13. 30cm gold glittered metal table top tree (109463)
14. 60cm gold 5 point star (P007785)
15. 180cm gold glitter grape leaf garland (K401841G)
Elegant Celebrations
Candelabras, reindeers, and jewel drops will definitely embellish your entrance with grace and elegance. Choose silver and white decorations to emphasize the delicacy of your décor.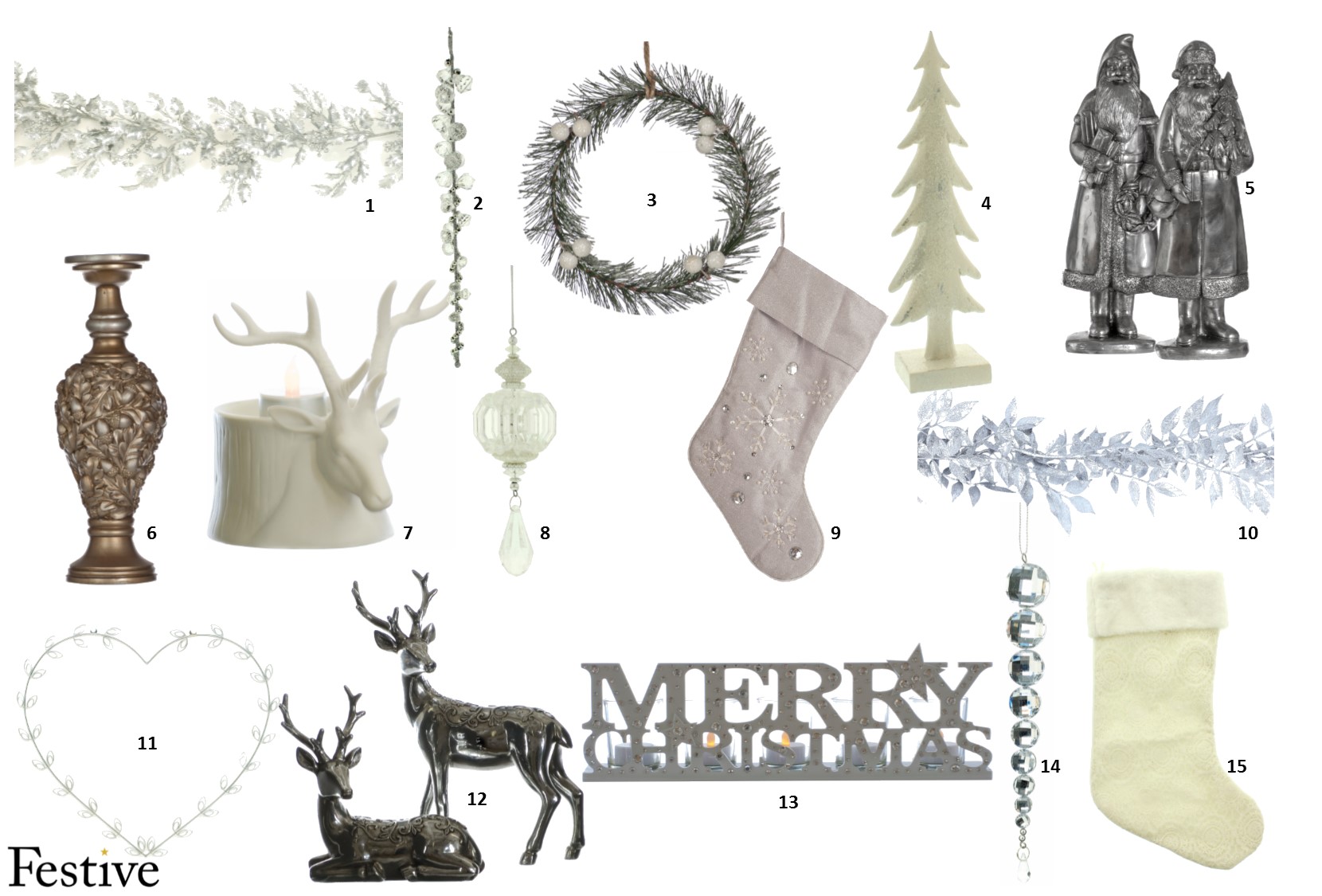 1. 180cm silver sparkle holly garland (254897)
2. 25cm acrylic icicle ornament (P007452)
3. 18cm frosted twig wreath (P000810)
4. 41cm polyresin cream and glitter Christmas tree (P007015)
5. 25.5cm 2 asstd Santa – silver (P000606)
6. 37.5cm acorn design candle holder (P000665)
7. 15cm white reindeer head candle holder (711710)
8. 15.3cm acrylic droplet (P007454)
9. 40cm silver felt stocking with snowflake embroidery (P007606)
10. 180cm silver glitter white ash garland (G401540S)
11. 49cm metal heart card holder – silver (247233)
12. 22cm set of 2 silver deer (688876)
13. 37.5cm silver merry Christmas tea light holder (800629)
14. 18cm silver/clear jewel tier droplet (262595)
15. 50cm white stocking with white trim (P007863)
Festive Romance
Sprinkle romantic feels by decorating your entrance with stunning poinsettias and delightful red berries. You can complete your lovely décor with heart-shaped ornaments.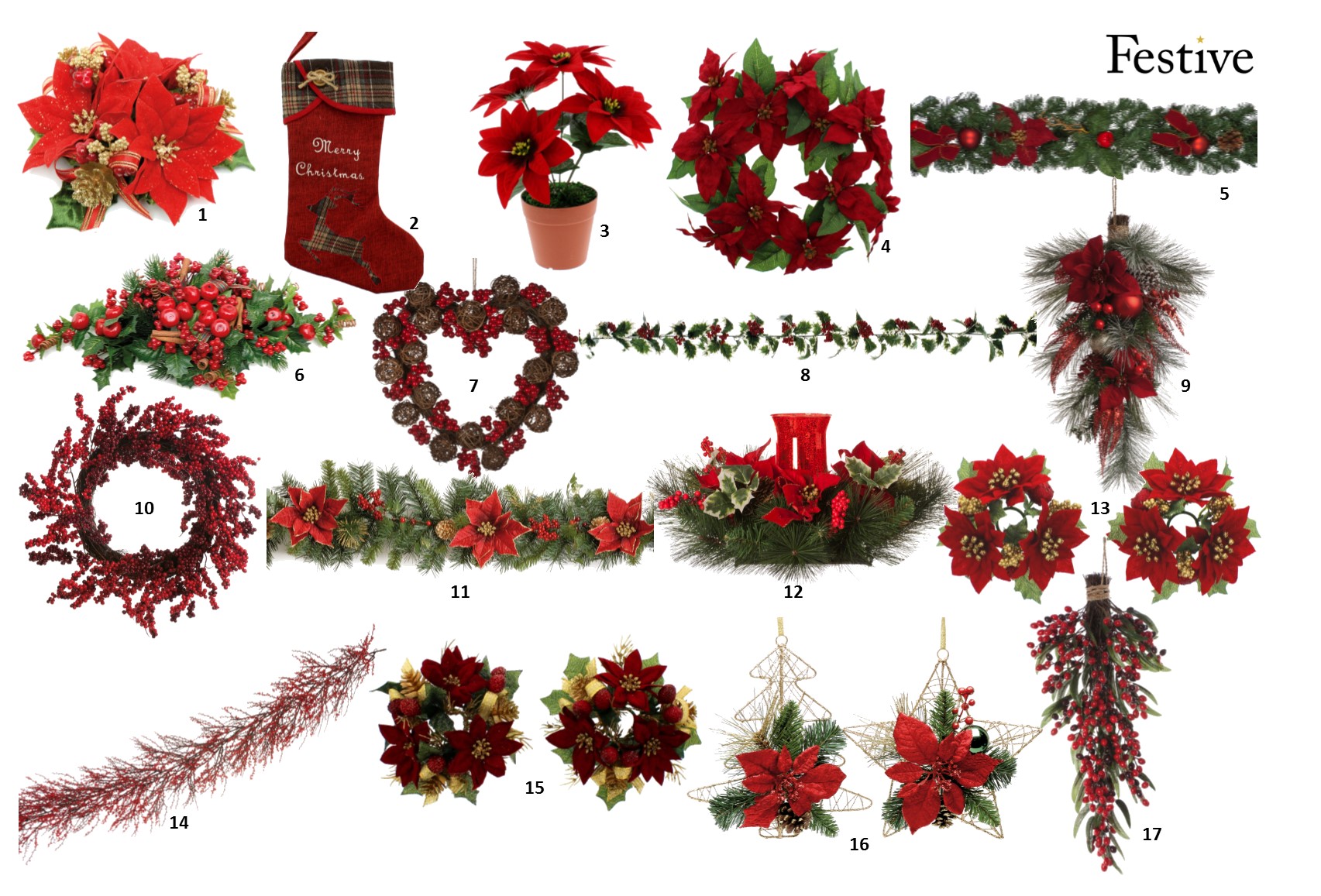 1. 7.5cm glittered red poinsettia candle ring (125579)
2. 47cm red and tartan stocking with reindeer design (P007831)
3. 26cm red poinsettias in pot (P004412)
4. 33cm red velvet poinsettia wreath (P008583)
5. 1.8m poinsettia garland (P000704)
6. 30cm table centre piece in red berry (157822)
7. 35cm berry heart wreath (802593)
8. 1.80m (6ft) garland w/holly & berries (NYB11103)
9. 70cm pine and red poinsettia teardrop (P006437)
10. 60cm mixed berry wreath (P006431)
11. 180cm two tone green pine garland – traditional (124640)
12. 60cm red centre piece (P002726)
13. twin pack 13cm poinsettia candle rings (805037)
14. 180cm berry garland (P008578)
15. twin pack of 7.5cm candle ring burgundy poinsettia (158027)
16. 30cm 2 asstd gold wire tree and star (171446)
17. Red berry hanging teadrop (P002723)
Rustic Noel
Turn your entrance into an adorable woodland realm by using decorations made of wood. Favour animals (reindeers, owls, foxes, and squirrels), pines, and small trees.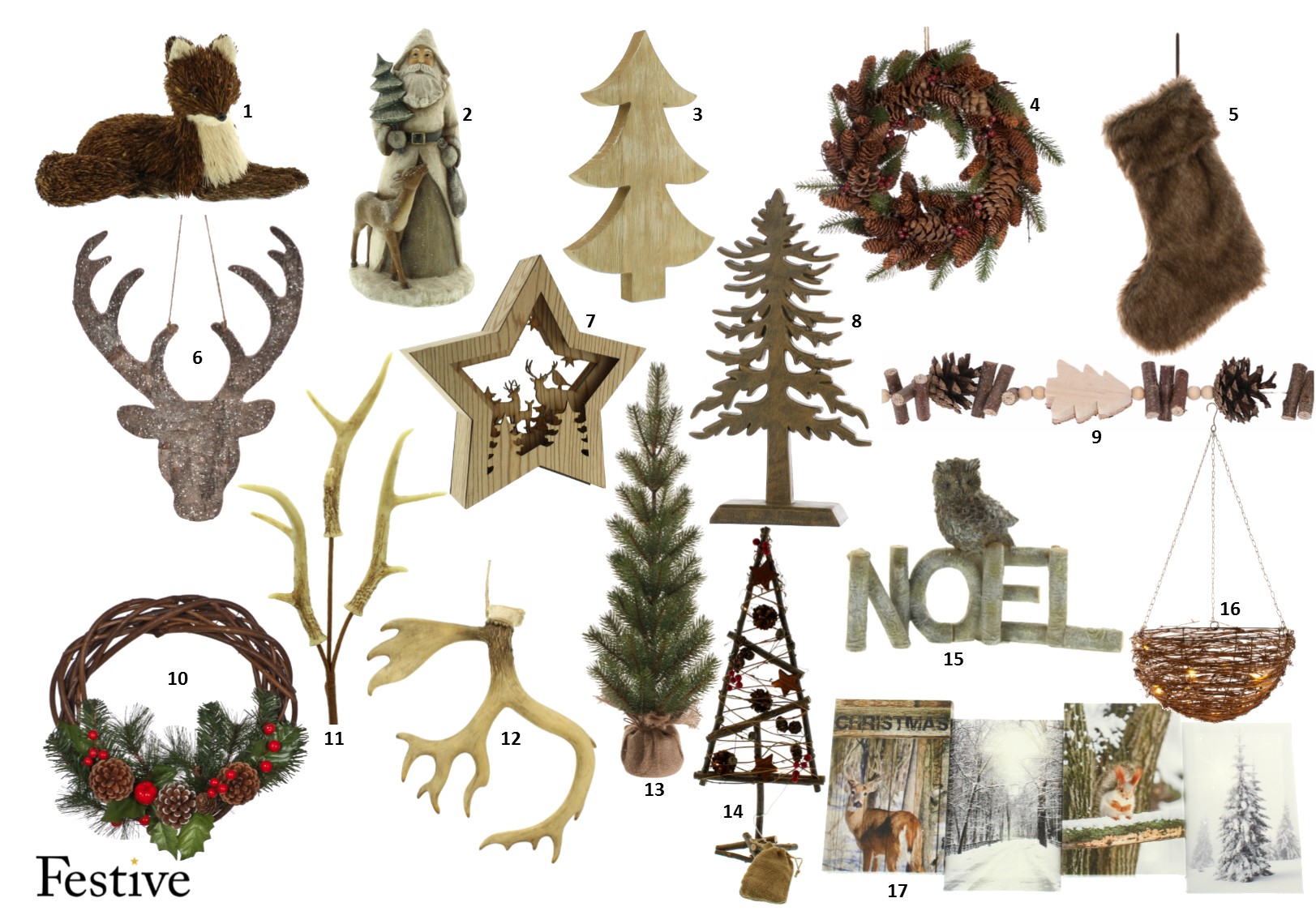 1. 15cm lying natural brown fox (P006589)
2. 38cm woodland standing Santa (P008181)
3. 25cm wooden Christmas tree (P007741)
4. 40cm pine, cone and berry wreath (P000548)
5. 55cm brown fur stocking (P007429)
6. 34.5 X 25.5cm wood reindeer head (P000796)
7. 28cm lit wooden star with reindeer scene (P008498)
8. 35cm wood look cut out tree (688951)
9. 1.20m natural tree garland (N979362)
10. 40cm holly leaf rattan wreath (P000723)
11. 90cm natural deer antler spray (P008557)
12. 40.5cm polyresin large antler ornament – natural (P007029)
13. 63cm burlap pine tree (P008561)
14. 58cm bo lit rustic tree with timer function (P006548)
15. 25cm rustic noel owl (P008214)
16. 38.1cm rattan hanging basket with lights (P007416)
17. 14cm x 21cm bo lit picture – winter scenes (P008849)
Nordic Winter
Frosted wreaths, shiny lanterns, and wooden stars are amazing decorative items to produce a Scandinavian world. Do not hesitate to add some splash of red in your Nordic décor.
1. 35cm silver cone wreath with white berries (684762)
2. 55cm Christmas stockings (P007844)
3. 40cm folding white paper snowflake (P008601)
4. 60cm snowflocked berry, cone tree (255290)
5. 180cm red berry and cone garland (P002717)
6. 21.5cm table top ceramic star with led lights (P007407)
7. 16cm 4 asstd wooden letters – X M A S (P002520)
8. 29.5cm resin Santa decoration (P007017)
9. 33cm snow pine wreath (P008559)
10. 41cm Nordic red metal tree (688791)
11. 24cm lit reindeer lantern (P008494)
12. 53cm 2 asstd lit reindeer with words (P008493)
13. 55cm grey, red and white stocking with snowflake (P007830)
14. 63cm burlap snow pine tree (P008547)
15. 180cm berry and cone white garland (P002709)
16. 39cm pinecone rectangular container (P000337)
17. 28cm bo whitewashed lit star with deer design (P006550)
Polar Yule
Penguins, polar bears, snowmen, and snowflakes will help you create a winter wonderland scenery in your entrance. Icy lights and holographic decorations are also perfect to represent the atmosphere in the pole hemispheres.
1. 140 led chasing window light star (695577)
2. 20cm silver / white wooden NOEL text table piece (P004153)
3. 40cm 6 point holographic star (P006980)
4. 30cm holographic honeycomb ball (P004169)
5. 274cm holographic garland (P006978)
6. 31cm flocked penguin – grey and white (P004107)
7. 30cm led white berry wreath (P006610)
8. 90cm white walking bear (P000409)
9. 16cm lit porcelain snowman (P006843)
10. 84cm 3 asstd long leg standing snowman (ND210083)
11. "26.6cm ""LET IT SNOW"" hanging sign with glitter" (P007618)
12. 25cm 3 asstd clear acrylic snowman (634422)
13. 88cm white standing bear (P000411)
14. 26cm geometric white penguin (P008827)
15. 50cm 3d digital star (806522)