NEW: Festive Everyday Lighting range
2017 is clearly devoted to innovations for Festive Productions. Indeed, this year, we are launching a new lighting range composed of amazing products which can be used at any time of the year, Christmas included.
Indoor lights are essential decorative items during the seasonal celebrations as they can enliven a Christmas display with merriment and elegance. Unfortunately, lighting decorations designed for Christmas time, end up disappearing once the festivities are officially done.
This year, we are releasing a new collection of lights which can be left up every day. Not only are they absolutely perfect to be used during Christmas, they are also designed to stay over all year long.
Our practical and decorative everyday lights have the particularity to come in original and bright containers (bottles, jars, and tea light holders). The radiance of these battery operated lights is therefore greatly enhanced.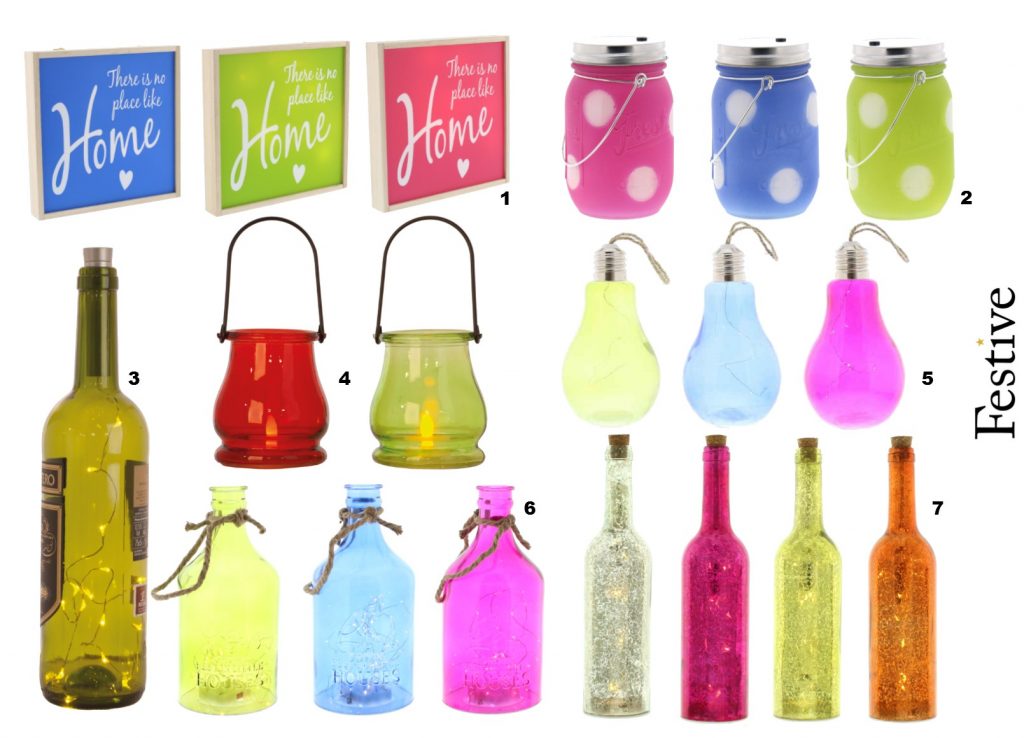 1. 25cm 3 asstd bo lit signs (P014769)
2. 13cm 3 asstd bo polka dot jars (P014770)
3. bo dewdrop bottle light (P014278)
4. 9.5cm 2 asstd glass flickering tea light holder (P014259)
5. 19cm 3 asstd bo bulb lights (P014767)
6. 32cm 3 asstd bo lit jars (P014766)
7. 30cm 4 asstd bo metallic bottle light (P009250)