NEW: Festive Silver Birch Decorations
Innovations and novelties remain Festive priorities in 2017. In addition to launching fabulous new products, we are also diversifying the materials used to make our decorations. This year, we are introducing superb tabletop items made of birch.
Silver birch is particularly known for being an immense and refined tree inhabiting European forests. At Festive, we like using what the natural world has to offer in order to create fantastic decorative products.
Our tabletop decorations, composed of silver birch, impressively manage to combine nature with elegance. Shaped into cheery characters, woodland elements, and adorable animals, our silver birch products are perfect to produce a graceful and tranquil Christmas display influenced by our Nordic Forest and Harmony themes.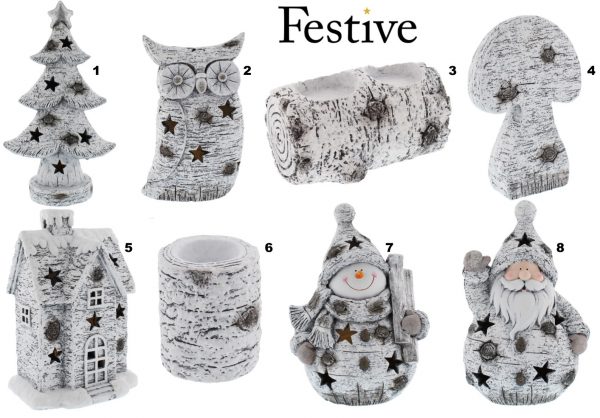 1. 52cm silver birch lit tree (P014926)
2. 39cm silver birch effect owl (P014932)
3. 15cm silver birch candle holder (P014922)
4. 35cm silver birch mushroom (P014924)
5. 37cm silver birch lit house (P014925)
6. 9cm silver birch candle holder (P014920)
7. 44cm silver birch snowman (P014930)
8. 43cm silver birch effect Santa (P014928)