Origins of decorated Christmas trees
Nowadays, it is completely unimaginable to celebrate Christmas without showing off a luxurious tree inhabited by cheery baubles, colourful tinsel, stylish garlands, and adorable figurines. Decorating a real or artificial tree has become an essential step whilst preparing Christmas festivities! And yet, rare are those who know where this popular custom comes from.
The first decorated Christmas tree saw the day in Germany during the 16th century. Introduced by pious Christians, this tree was ornamented exclusively with apples, white candy canes, and pastries shaped into stars, hearts and flowers. Adorning Christmas trees with edibles, such as cakes, nuts, and sweets, remained the major trend for many years.
Soon after, candles were added to bring some magical sparkle to Christmas trees. According to the historically unverified legend, the Father of Protestantism, Martin Luther came up with this idea when, on a walk, stars twinkling through the branches of a tree caught his attention. This enchanting scene reminded him of Jesus leaving his heavenly home to come to Earth. During the 19th century, candles, likely to cause fire, were replaced by electric lights.
Ornamented trees appeared in the UK in 1800 thanks to King George III's wife. German-born, Charlotte of Mecklenburg-Strelitz offered a Christmas tree to children during a party. In 1830s, young Victoria had trees decorated with lights and sugar in her room to celebrate Christmas. In 1841, Queen Victoria's husband, Prince Albert, introduced a Christmas tree to the castle. The upper class instantly imitated the royal family and started decorating trees mainly to assert their social dominance.
During the 20th century, newspapers, featuring pictures of decorated trees, contributed to popularise this tradition. Since, Christmas trees have conquered all the fringes of society, becoming indispensable must-have pieces for the gleeful winter celebrations. Today, plenty of original decorations are available to merrily embellish Christmas trees.
_________________________________________________________________________
At Festive, our Christmas trees are thoroughly ornamented by our designers who let their endless imagination freely speak to suit particular themes, such as Winter Romance, Natures Glow, and Metallic Luxe. Here are some illustrations of their stunning and inspiring work!
Gleeful tree decorated with an elegant pink ribbon garland, and vivid yellow, blue, black, pink, and orange baubles.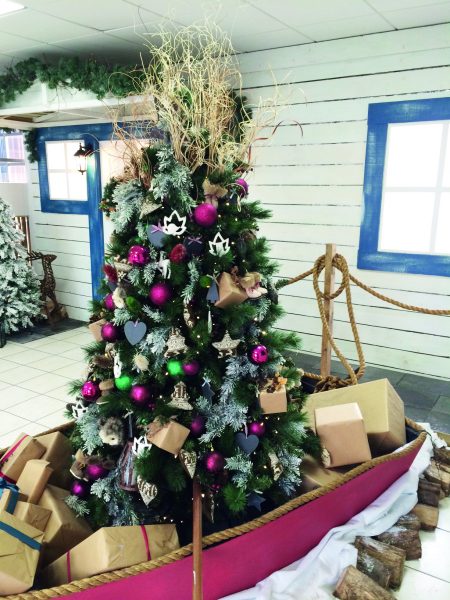 Adorable tree ornamented with matte, shiny and glittering burgundy baubles, silver hanging hearts and stars, and plush ornaments.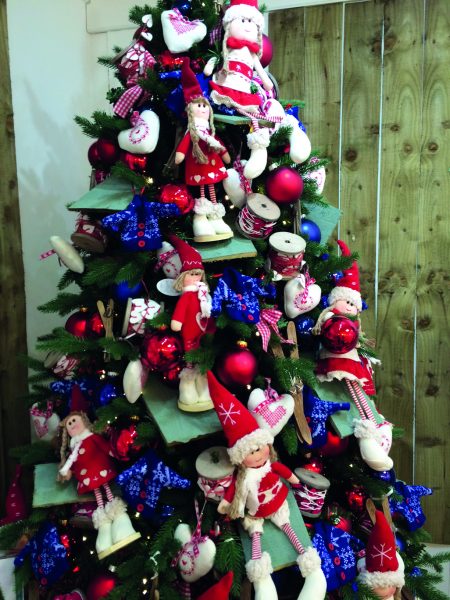 Christmassy tree inhabited by lovely assorted elves, matte and shiny red baubles, and knitted jackets.
Stylish tree with splendid purple baubles, original jute hangers (NXY11811), elegant red and gold cones, and refined red berries garlands (NK110584).
Delightful tree ornamented with realistic pine cones, sophisticated green large glitter shapes (101238), festive antique stars (788590), and stunning red flowers.
Beautiful tree inhabited by adorable wool foxes (P001047), green and red chestnuts, and mushrooms.
Amazing tree covered with plush ornaments: reindeers, owls, and birds.
Glamorous tree decorated with sophisticated silver, rosy, and white baubles, delicate silver glitter willow sprays, and rosy velvet poinsettia stems.
Lovely tree ornamented with festive Queen's guards, green glastic balls with glitter swirls (P002044), merry red glitter willow sprays, original red and green glastic ice balls (P002085), and Santa's magic keys (P004089).
Sparkly tree with sophisticated gold ice balls (P005772), elegant gold glitter willow sprays (P003013), gold glitter white ash garlands (G401540/G), and gleaming tinsel.
Gleaming tree decorated with refined glass domes (802197), delicate lace glass baubles (P006892), elegant gold and silver glastic ice balls (P002087), silver glitter glastic baubles (P002061), and unique clear glass hanging test tubes (P007197).
Sophisticated frosted tree embellished with clear glass hanging test tubes (P007197), faceted glass baubles (221127), ice glass olives (P006898), and clear stripe baubles (P005789).
Wonderful tree enhanced with gold (P006879), rose gold (P006881), copper (P006882) and cherry red (P006880) glass hexagon dimple balls, rose gold porcelain stars (P006746), and copper glitter reindeers (P007238).
Enchanting tree with delicate white baubles, sumptuous clear trinket box balls (P007205), elegant silver glastic ice balls (P002081), superb white (P007322) and silver (P007323) glitter starbursts, and stylish white porcelain stars (P006721).
Original tree with red glass balls decorated with a golden flower (P006941), red glitter stipe baubles (P001878), black spike glass balls (P006934), and majestic feather brunch sprays (P008538).
Shiny tree decorated with elegant glass hanging drops (P007224), delicate silver glitter leaf garlands (P008365), and original leaf decoupage baubles (P007043).
Nordic tree embellished with red glastic criss cross balls (P005779), white porcelain stars (P006739), white glass geometric drops (P006907), and electroplated deers (P007308).
Superb frosted tree ornamented with wonderful grey knitted balls (P007411), majestic silver glitter reindeers (P007245), lovely red glastic stripe baubles (P005786), and elegant white glass trees (P007186).
Beautiful tree with green and red decorations: red tinsel, Christmas pattern decoupage baubles (P007050), clay dough elf hanging ornaments (P007565), and red elfs socks picks (P007373).
Winter tree enhanced with delicate white porcelain stars (P006739), adorable snowflake knit pattern decoupage balls (P007051), and delightful white wooden reindeer heads (P007526).