Leave a Comment
Tinsel remains our flagship product in 2017. Made from metallised PVC, our British made tinsel is constantly evolving and modernising to satisfy increasing demand. Whilst our traditional pieces (red/green/gold/silver fine cut/chunky tinsel) remain in our 2017 range due to their continuing success, many novelties in our tinsel collection are to be noted.
Trendy colours
This year, red, green, gold, silver, white, and purple are joined by fashionable tones. Our high-quality tinsel comes in sophisticated metallic shades and delightful blue tones. Whilst matt champagne, bronze, and matt silver symbolise refinement, powder blue, teal, and mint blue, inspiring calm, are perfect to create a winter wonderland scenery. In 2017, colours are also mixed to create unbelievable harmonies.
Colours come with different finishes too. Not only can tinsel be glossy and matt, the Christmas must-have looks amazing when produced with holographic and embossed effects.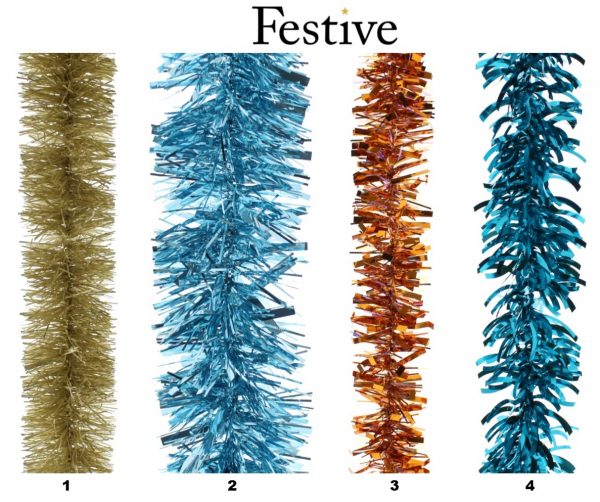 1. 200cm x 7.5cm fine cut tinsel – matt champagne (P015294)
2. 200cm x 10cm chunky tinsel – powder blue (P015290)
3. 200cm copper / bronze diamond garland (P010404)
4. 200cm teal wavy tinsel (P010398)
Unique shapes
Although our fine cut and chunky tinsel pieces are extremely popular, we are introducing new kinds of garlands. We propose stunning wavy tinsel pieces. The twinkling and colourful bands, cut and attached to a sturdy wire in our state-of-the-art machines, are slightly curled, giving a modern and stylish look to our tinsel.
Moreover, we have garlands composed of superb large fern leaves. Amongst our most original tinsel pieces, 2017 sees the appearance of crinkle loop and spiral bubble garlands, which will get anyone into a festive mood.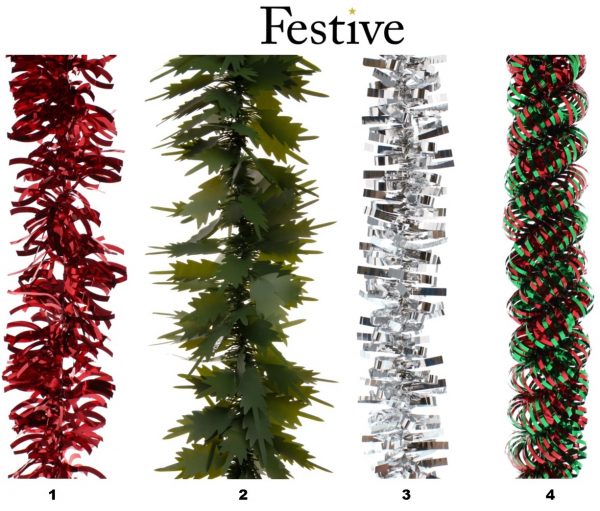 1. 200cm red wavy tinsel ( P010395)
2. 200cm x 14cm large fern leaf – dark aglan (P015073)
3. 200cm silver crinkle loop garland (P010890)
4. 200cm red / green spiral bubble garland (P010418)
Atypical items
Whilst snowmen and penguins, made of sparkly tinsel, are happily staying in Festive, tinsel bands are also used to make loop chains, wavy cut pull out garlands, and spiral twists in 2017. Tinsel stars and poinsettias serve to merrily enliven delightful wire pieces. Our new wreaths and Christmas cone trees are composed of tinsel holly leaves, poms, and snowflakes shapes.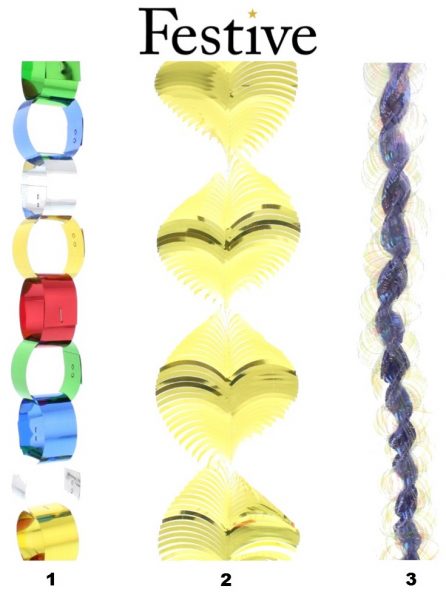 1. 240cm Christmas loop chain multi (P010893)
2. 150cm x 10cm gold wavy cut pull out garland (P010389)
3. 200cm lilac spiral twist garland (P010401)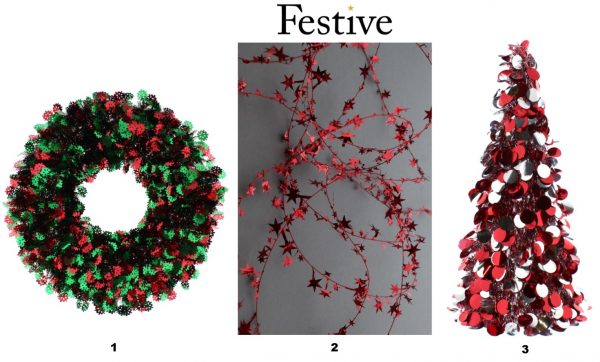 1. 45cm multi snowflake tinsel wreath (P010902)
2. 750cm red wire star garland (P010907)
3. 45cm large multi pom cone tinsel tree (P010903)