Leave a Comment
In December 2015, Festive had the pleasure to welcome Melonie Clarke, journalist for the prestigious Lady Magazine. Melonie had the privilege to learn the well-kept secrets surrounding our colourful and shiny tinsel, essential to merrily embellish any Christmas tree.
Arrived in our enchanting tinsel realm, Melonie learnt that Festive has been producing tinsel since 1983. Festive is now the largest tinsel manufacturer in the UK, with 12 million metres successfully produced every year! Our lively and sparkly tinsel is sold to renowned supermarkets, garden centres, and shops, in the UK and abroad.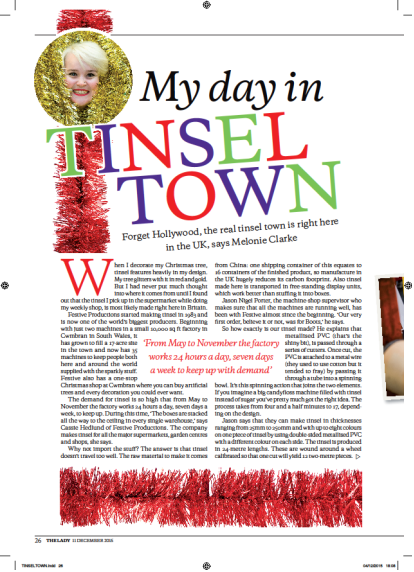 Melonie was extremely interested in discovering the fabrication process of our tinsel. So, we took her to our factory where our 35 powerful and state-of-the-art machines are frenetically running to make high quality tinsel. She even had the chance to try one of our machines!
Melonie learnt that at Festive, we use metallised PVC imported from China to make our gleeful tinsel. Once cut by our machines, the special PVC is attached to a solid metal wire. In total, this operation lasts between 4min30 and 17. Generally, each piece of tinsel produced by Festive measures 24 metres, and the thickness of each varies between 25mm to 250mm.
Festive tinsel can be composed of 8 colours and comes in different shapes thanks to dye machines cutting the tinsel in funky and original patterns, such as hearts, snowflakes, or even kangaroos!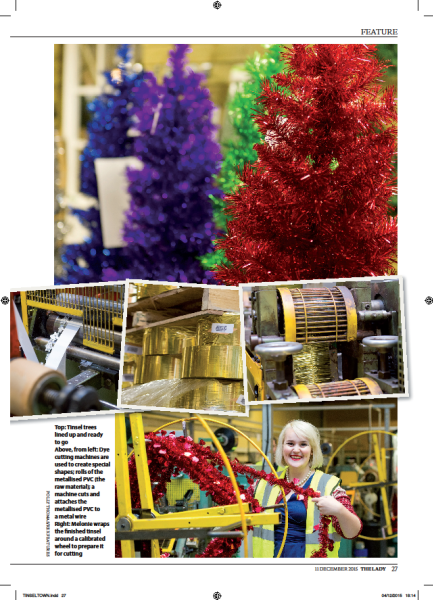 Melonie was impressed by the immense popularity of tinsel, requiring Festive to remain open 24/7 from May to November in order to keep up with the tremendous demand during this period and provide the UK and the world with the best Christmas must-have!