The Evolution of Tinsel
Tinsel, referring to thin twinkling bands, is often seen as an indispensable item to bring some sparkle to Christmas trees, doors, walls, stairs, or fireplaces. This gleaming and cheery product possesses an incredible history punctuated by an intensive quest for lower production costs and safety imperatives.
Tinsel was invented in 1610, in Nuremberg. The glimmering must-have was first introduced to reflect the candle lights ornamenting Christmas trees. Tinsel was mostly created from silver cut into thin strands, making the sparkly product very expensive to produce and to buy. Only the wealthy fringe of society could proudly get tinsel to enchant their Christmas with exceptional glow. Silver, which also tended to tarnish when in contact with hot lights, started being replaced by cheaper metals, such as copper and tin. Metallic tinsel survived until the 20th century.
When World War I started, the demand for copper dramatically rose, creating a shortage for the tinsel industry. Manufacturers had to change their strategy to keep production costs low. As a result, tinsel, which was predominantly made in Lyon (France) at the time, became aluminium-based. However, aluminium generated more fire scares than cheerful moments. Faced with life threatening issues, manufacturers tried to make tinsel from tin and lead. But the tinsel produced was too heavy and of poor quality due to the strips disgracefully falling apart.
In 1950s, lead was used by most of the tinsel industry to make gleeful and shining layers. A decade later, this cheap material was suspected of causing poisoning, especially amongst children. Lead completely disappeared from the tinsel production in 1972.
Today, tinsel is made from polyvinyl chloride (PVC). To obtain shiny effects, the PVC base is metallised before being cut into delightful bands. These stripes are then spun in a drum so that they firmly stick to a wire. This technique, mastered by Festive, is key to create high quality tinsel.
Festive is the largest tinsel manufacturer in the UK. Every year, from January to November, Festive produces 14 million metres of tinsel, enough to go around the world every two years! With 35 state-of-the-art tinsel machines and 3 dye cut machines, Festive creates original and superior tinsel whose thickness varies from 25mm and 250mm. In addition to making tinsel garlands, Festive also produces tinsel wreaths, hats, stockings, plaques, and trees designed to brilliantly enhance your Christmas party.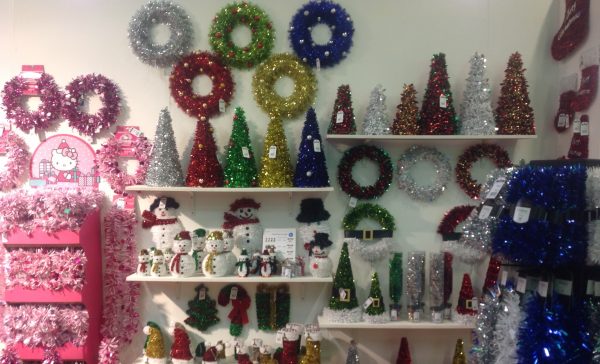 Twinkling tinsel decorations: cheery wreaths, adorable mini trees, jovial snowmen, gleeful Santa hats, and delightful stockings to be filled with wonderful goodies.
The realm of sparkly and colourful tinsel garlands!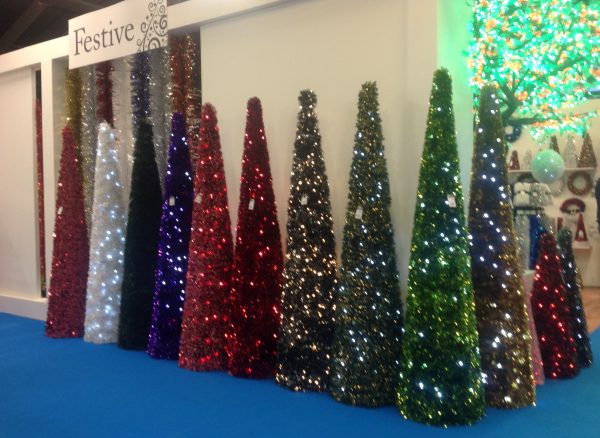 Shining tinsel trees to create a festive and funky ambiance in your home this Christmas.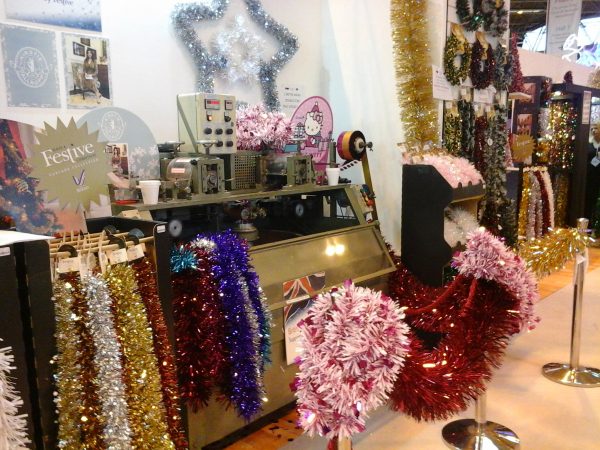 Ingenious machine used by Festive to make high quality tinsel.
Lively and shiny tinsel stockings (P004300) designed to welcome fantastic treats!