What is the Reindeer Feeder?
After centuries of doing their work 'The Reindeer Feeders' are travelling to human homes. This special breed of creatures known in The North Pole known as 'Shrumanns' (shrunken humans) have the important job of overseeing all the Christmas preparations in the home. On Christmas Eve, it is your Shrumann who lets Santa know everyone is asleep before popping up the chimney with the carrots or feed in their feeding sack to feed the reindeer while Santa delivers the presents.
The storybook tells readers the heartwarming story of how one Shrumann learned all about his very important job at Christmas. Make sure to put your official sticker in your window so Santa knows on Christmas Eve there is help on hand in your house
How does it work?
This product is all about adding a new Christmas tradition completely unique and fun. It is a hassle free idea for parents which builds the excitement on Christmas Eve
Fun and interactive
Build Christmas excitement
Loving a new Christmas character
This product does not require moving simply place on windowsill or mantle piece. Your Reindeer Feeder will do their work on Christmas Eve while you sleep
Whats in the box?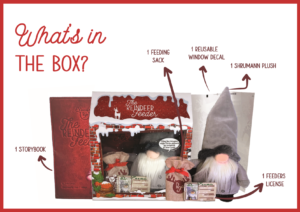 Shrumann plush character
Storybook
Re-usable window decal sticker
Feeders license
Feeding sack
Top Tip
A garden centre was so successful in 2019 that their entire stock sold in 1 day as they held a FREE reindeer food making event in store.
They invited their customers to come along and make some reindeer food (mostly porridge oats and chopped up carrots) for free
The small event was set up beside their Reindeer Feeder FSDU. All staff were briefed on our product and spread the message to all customers throughout the day – it was an instant success and a very cheap marketing technique.
We strongly urge all retailers to try something similar as this product instantly endears the customer once they understand its function.
Product details
Reindeer Feeder pack
Product code: P033271
Pack size: 12
Unit price: £8.30 (£19.99 RRP)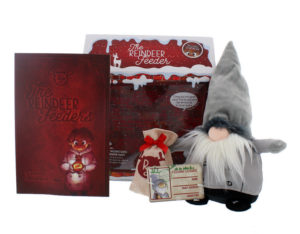 Reindeer Feeder FSDU*
Product code: P033272
Pack size: 48
Unit price: £8.30 (£19.99 RRP)
*Free full colour printed FSDU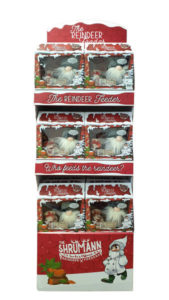 To add to your order please contact your local Field Sales Manager or our Customer Services team on 01633 627 300 or use the contact form below